Derek Adams: Plymouth Argyle boss denies saying he is the EFL's 'best manager'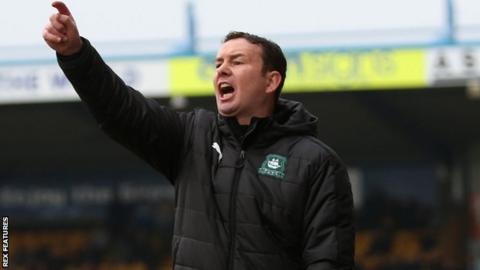 Plymouth boss Derek Adams has denied telling Mansfield manager Steve Evans that he is the 'best manager in the English Football League'.
The pair argued during Argyle's 2-0 win at Field Mill on Saturday.
"He failed last year, he's got a huge budget this year and that was a big result for them," Evans told BBC Radio Nottingham.
"When somebody tells you in the tunnel they're the best manager outside the Premier League, it's hard to pallet."
But Adams told BBC Radio Devon: "I don't think that's quite right, but Steve's one of these guys that talks a lot.
"We're not best pals after the game - it's 90 minutes of football and we want to beat each other, we're both Scottish, but you've got to get on with it.
"We've had words and that's the way it is, but what he's said is untrue."
Evans, who was appointed as Stags boss in November, also said Mansfield's performance was their best since he joined the club.
"It's the best they've probably played here in five years - I'm not being funny, it was the quality of the football," he said.
"Plymouth are a good team, a very good team, and we made them look like a bad team, a poor team.
"Their manager will say something different, he'll talk character and all that stuff but he can say what he likes."