Graham Carey deserves Republic of Ireland call-up, says Plymouth Argyle boss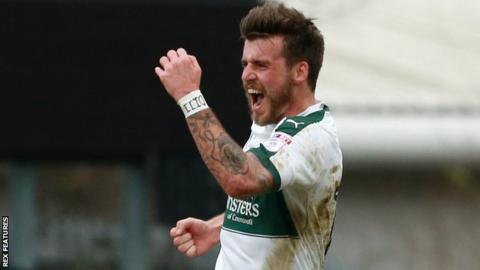 Plymouth Argyle boss Derek Adams says Republic of Ireland manager Martin O'Neill should give playmaker Graham Carey an international call-up.
Ex-Ross County player Carey won six under-21 caps for his country, but is yet to feature for the senior side.
"I don't think it'll be long before he's in a Republic of Ireland full squad," Adams told BBC Radio Devon.
"I think that he's a similar player to Wes Hoolahan, who's now 34 - Graham's only 27."
Adams continued: "He's the next one probably that Martin O'Neill will look to in the future, over the next period of time."
O'Neill named his latest squad, ahead of their World Cup Qualifier with Wales, on Monday.
Carey, who started his career at Celtic, joined Plymouth in July 2015 and has scored 22 goals in 75 League Two appearances.
"I think that he deserves an opportunity," said Adams. "We've seen players from Dundalk this season get into the (Republic) side, and Graham Carey is doing it week in, week out at a different level, but a difficult level as it is."
Before joining Plymouth, Carey's only spell outside Scotland was a loan stint at Huddersfield in the 2010-11 season.
He said: "It's always great when the manager and staff back you, and hopefully we can repay them.
"That's one of the main reasons why I came to the club - I've played with him [Adams] before and he really lets me play with a lot of freedom."