Zambia set to launch a bid to host the 2025 Nations Cup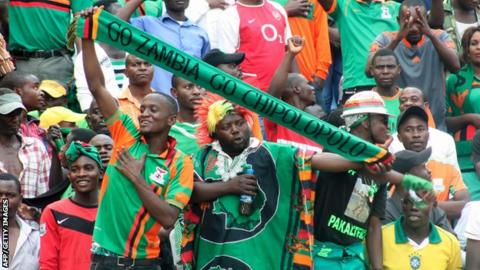 Zambia's President Edgar Lungu says his country will bid to host the 2025 Africa Cup of Nations.
The announcement comes after Zambia successfully staged the Under-20 Nations Cup which they also won on Sunday.
President Lungu met with Confederation of African Football (Caf) president Issa Hayatou on Monday and made the declaration that Zambia would bid for the Africa Cup of Nations in eight years time.
"I don't know the bidding process, but as a politician, I am bidding right now. I am bidding on behalf of all Zambians," President Lungu said.
"We can improve on the hotels, roads, and transport."
Zambia, the 2012 African champions, have never hosted the tournament before.
Zambia's Football Association (Faz) had put in a bid for the 2019 Africa Cup of Nations but missed out to Cameroon.
Hayatou welcomed the Zambian interest saying the country had a good chance of hosting the 2025 edition.
Hayatou said Zambia had organised the U-20 tournament very well and deserved to be given a bigger opportunity.
"We were surprised how the tournament was organised. In fact it was beyond our expectation.
"I am speaking in the presence of my Caf executive members, definitely if Faz bid," said Hayatou.
Zambia has fulfilled one of the requirements for bidding for the senior tournament, having successfully hosted the Under 20 event.
The Football Association of Zambia president Andrew Kamanga said they would start the process of bidding for the 2025 tournament soon.