African champions Zambia to play Portugal in their U-20 World Cup opener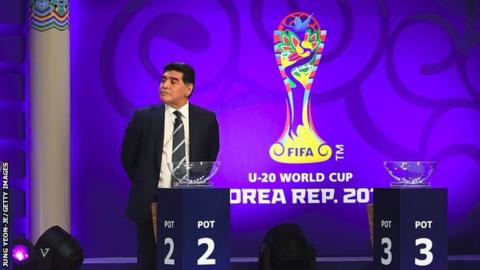 The African champions Zambia have been handed a tough opening match at the Fifa Under-20 World Cup in May, following Wednesday's draw in South Korea.
Zambia, who won their continental trophy on home soil on Sunday, have been drawn in Group C alongside Iran and Costa Rica and will also play twice former champions Portugal in their opening match on 21 May in Jeju.
Senegal, Guinea and South Africa will also represent Africa at the event in South Korea.
Click here for Under 20s World Cup fixtures from the Fifa website
Guinea have arguably the toughest group of the African contenders, being drawn in Group A alongside hosts South Korea, six-times winners Argentina and their old rivals England.
South Africa will be in Group D and will take on Japan, Italy and Uruguay whilst Senegal will take on Ecuador, USA and Saudi Arabia in Group F in the tournament which runs from 20 May to 11 June.
The head coach of South Africa's Under-20 team, Thabo Senong, admitted the Amajita have a challenging task ahead of them.
"We have a difficult assignment but I believe once we have completed our preparation we will be up for the task" said Senong.
"I am, however, looking forward to this great football spectacle and I can assure the nation that we are not going there to make the numbers, we are going to compete," he added.
The 24 participants were seeded into four pots for Wednesday's draw.
The teams were drawn by Argentine stars Diego Maradona (pictured) - who was on the winning team in 1979 and kissed the trophy as he brought it on stage in Suwon - and Pablo Aimar, a winner in 1997.