James McPake: Dundee boss Paul Hartley hopes for summer return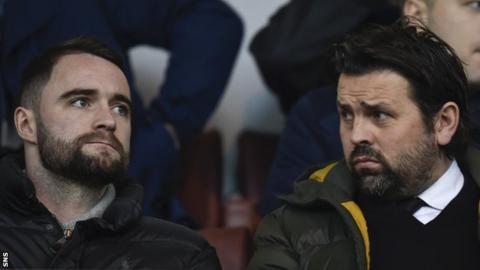 Dundee defender James McPake has had further surgery on his injured knee but manager Paul Hartley is hopeful he will be fit for pre-season.
Northern Ireland cap McPake has been out since suffering a fractured kneecap against Dundee United in January 2016.
The 32-year-old made a comeback in the under-20s in December but did not progress as hoped.
"He's still a wee bit away but we are right behind him and we have good medical staff here," said Hartley.
"James has had a little tidy-up on his knee.
"We will probably not see James till next season, hopefully pre-season. He has been working hard, but we just felt for this last little part he needed that little tidy-up.
"It's been difficult, he has been out nearly 18 months. It has been mentally [difficult] more than anything, but he is getting through it. He's a strong character and it will be good to see him back.
"He's got a coaching staff that are going to support him and he's got good team-mates also."