Jersey beaten by the Navy in men's and women's friendlies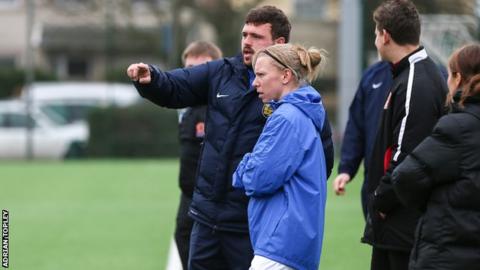 Jersey's women began life without manager Simon Petulla with a 1-0 loss to the Navy at Springfield.
The friendly came just three days after Petulla and his coaching staff stepped down after falling out with the Jersey Football Association.
Jennifer Dick netted the only goal when her looping header found its way in early in the second half.
Later, Jersey's men let in two late goals as they slipped to a 2-1 loss.
Kieran Lester had put the island side ahead before the break, after Jersey goalkeeper Euan van der Vliet had superbly kept out Andy Todd's penalty.
But the Navy's Ben Hebditch pulled his side level before capitalising on a defensive mix-up to net the 89th-minute winner.
"I thought we were excellent for 75 or 80 minutes," said manager Martin Cassidy, after the first Jersey match since his appointment in the summer of 2016.
"We conceded two really sloppy goals, which I'm not happy about, but considering it's the first time we've played together I'm really pleased with that level of performance.
"The players know they've made a few silly mistakes and a few silly decisions but ultimately we'll build on that performance."
Experienced Jersey player Jodie Botterill and community coach Daniel Seviour took temporary charge of Jersey's women at the end of a controversial week for the women's game in the island.
Petulla resigned on Wednesday night saying his position had become "untenable" after disagreements with the Jersey FA about how women's football in the island should progress.
He was in the crowd to see Dick score the only goal, heading the ball home from a far post corner despite the best effort of Sara Luce to tip it over.
"It's been a difficult week, so we asked a lot of them today to step up in a really difficult fixture for us and they gave 100 percent," Botterill told BBC Radio Jersey.
"We need to sit down with the Jersey FA this week and find out how the team are going to go forward, it's all up in the air at the minute.
"I'm disappointed in the comments that have come out, I think there's been a lack of respect shown and I think hopefully we can rebuild and work on the good stuff that's been done."