Truro City chairman Peter Masters says he 'has to back' manager Lee Hodges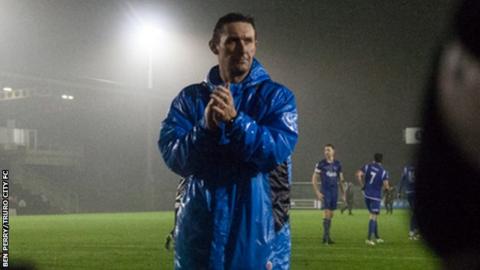 Truro City chairman Peter Masters says he "has no option" but to back manager Lee Hodges as the club battles to avoid relegation from National League South.
The Cornish side have lost 13 of their past 17 games and are just two points above the relegation zone.
"I've got to back him, there's nothing else I can do," Masters told BBC Radio Cornwall.
"If I sack him I'll end up bringing another manager in, who's going to take time to get himself sorted."
Truro finished fourth in the sixth tier last season, their highest ever position, but did not extend the contract of ex-boss Steve Tully after they were beaten in the play-offs.
As well as uncertainty over what league they will be playing in next season the club do not know where it will play its home games, with their proposed new Silver Bow ground in the balance.
"One of the things I've said to Lee is that he changes the team around too much for my liking," added Masters.
"He wants to be consistent with the team he's playing and just make one or two changes, instead of the wholesale changes that go on, but he's the manager.
"He's a good chap - yes, he can be a bit laid back at times but he's been pushed forward, and he knows what I'm up to.
Asked whether he remains 100% behind Hodges, Masters said: "I've got no option to be frank about it - it would be unwise to change manager at this part of the season."