Marc Wilmots wants Yaya Toure to play for Ivory Coast again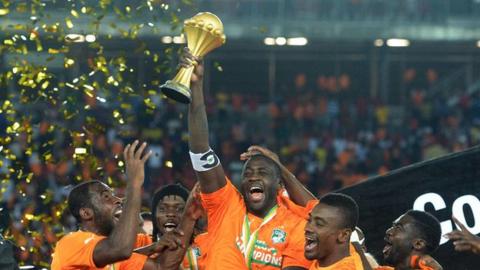 New Ivory Coast coach Marc Wilmots wants to persuade Yaya Toure to come out of international retirement.
Wilmots, a former Belgium player and coach, signed a two-year contract with the Elephants on Tuesday.
Toure has not played competitively for his country since leading them to the 2015 Africa Cup of Nations Cup title.
"I know how important it is to have experienced players. It's not yet over for Toure, we've got to get him back," Wilmots said of the 33-year-old.
"The Yaya Toure case will be one of my first missions."
Without Toure, the Elephants failed to get past the group stages of this year's Nations Cup in Gabon, failing to win a game.
"I've seen the last two games that he played for Manchester City in a defensive midfield position," said Wilmots. "He's always great, he's so good physically.
"I'll go see him, I'll talk with him."
Wilmots believes he has taken on a "golden generation" of Ivory Coast players.
"I do not know much about the country, but I have a lot of information about the national team, and I was very interested in the national team," he said.
"They have a very good generation of players. When the challenge was offered to me, I thought why not?"