Kevin Nicholson: Torquay United manager 'up for a challenge' in National League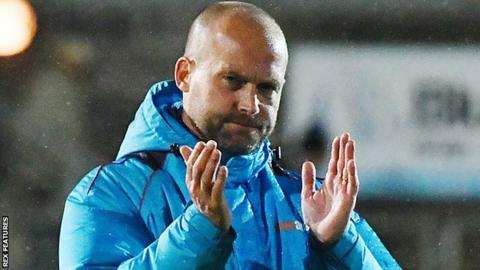 Torquay manager Kevin Nicholson says he is "up for a challenge" ahead of their final eight games of the season.
The Gulls are currently 21st in the National League table with eight matches remaining, two points adrift of safety.
"This is the group we've got so let's go to try to quiet a few people down," he told BBC Radio Devon.
"This morning was a battle cry - I've never been as galvanised and up for a fight as over the last couple of days."
Earlier this month Nicholson said the club's new owners had given him funds to bring in players, and on Tuesday he claimed he was close to two signings.
But Torquay failed to add to their squad ahead of Thursday's registration deadline at 17:00 GMT.
"I've never felt so up for a fight as what I am right now," he added. "I'm up for a challenge, [it's] probably a bigger challenge than last season at this point.
"If they're up for it anywhere near as much as what I am, then we'll have every chance of doing it."