Jersey scrape into Muratti final in chaotic end in Alderney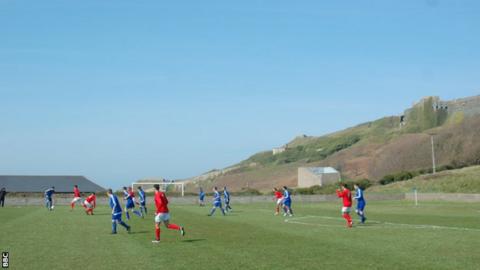 Jersey narrowly avoided an upset and edged into the Muratti final with a 2-1 win over Alderney, with all three goals in stoppage time in a chaotic ending.
Alderney hit the crossbar twice in the first half, but with the game seemingly heading for extra time Jack Cannon's free-kick flew in despite claims it was taken from the wrong spot.
A minute later Alderney were level as Sol Bower netted from close range.
But there was still time for Kieran Lester to hook home a last-gasp winner.
The semi-final came the day after news emerged that long-time captain Luke Watson had quit the Jersey team.
They will now travel to rivals Guernsey for the final on Saturday, 13 May.
Alderney boss Alan Adamson told BBC Radio Guernsey: "If it was a neutral watching that game they wouldn't have known who was supposed to be the top side.
"It gives us great hope for the future because this is a young, young side we've got.
"That free-kick that they scored the first goal from was 10 yards from where the foul took place and if it had been taken in the proper place he couldn't have shot."
Jersey manager Martin Cassidy told BBC Radio Jersey: "The result is what's important and we've got that.
"It was horrible conditions, the players couldn't adapt to it. We want to play short, possession football and on a pitch like this and with the wind the way it was it was just uncontrollable, really.
"I've said to the players that they should be proud of themselves for winning the match because it could've been a disaster if it had gone the other way."