Steve Kaplan and Jason Levien: Swansea owners to meet fans at Trust forum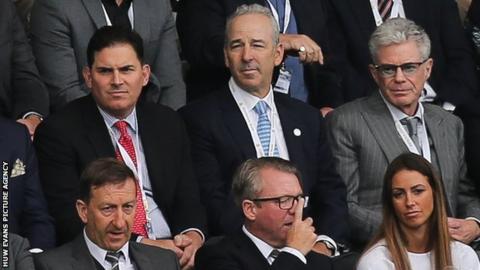 Swansea City's American owners will face questions from the club's supporters for the first time since completing their takeover last summer.
Steve Kaplan and Jason Levien bought a 68% controlling stake in July - but the Swans' poor start to the season saw fans turn on them and club directors.
Relations have since improved with the Supporters' Trust, which owns 21% of the club.
The forum with Kaplan and Levien will take place on Tuesday, 4 April.
A statement on the Trust's website said the event, which will be held at the Liberty Stadium, will be open to members only.
Kaplan and Levien will attend Swansea's crucial Premier League fixture at home to relegation rivals Middlesbrough on Sunday.
They also plan to be at the Liberty Stadium for the match against Tottenham on Wednesday, 5 April.
"A lot of it [the forum] will be about the development, progression on and off the pitch, relationships with the Trust board, relationships with the club," said the Trust's Cath Dyer.
"There's a lot of communication going on. Relationships are far better than they were - fingers crossed it will will keep going on."