Gerald Phiri appointed interim Malawi coach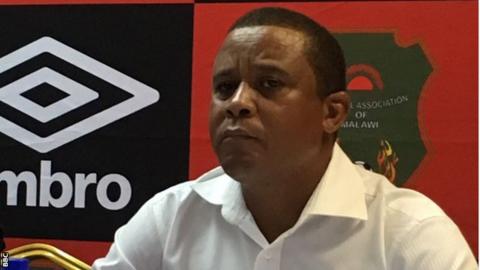 The Football Association of Malawi (Fam) has appointed Gerald Phiri on a year's contract to lead the national team.
Fam says it will continue its search to for a foreign coach.
The former international striker's first task will be an Africa Nations Championship (CHAN) qualifier against Madagascar in April.
"It is a big challenge and we have to sit down and focus very well and see what we can do," he said.
"We need to come up with a system which should help us win games because in the past we have been struggling."
Fam has clarified that while Phiri and his assistant Deklerk Msakakuona will sign one year contracts it is still looking for an expatriate coach.
"The issue of the expatriate coach is a process and I think as and when the process is concluded that will be announced and the right changes will be made", Fam General Secretary Alfred Gunda explained.
Phiri, who turns 49 next month, was in charge of the Flames as a caretaker for January's 2-2 draw in a friendly against Chinese side Guangzhou FC.
The match was the inaugural match at the new Bingu National Stadium constructed by the China in Lilongwe.
The former under-20 coach replaces Ernest Mtawali, who was fired in June 2016, after a poor showing at Southern Africa's regional championship the Cosafa Cup.
Malawi begin a training camp on 2 April ahead of their CHAN game away in Madagascar on 22nd April with the return leg at Bingu Stadium a week later.
The association has also have secured a friendly away to Kenya on 18th April en-route to Madagascar.