West Ham: Slaven Bilic 'focused' on manager's role at Hammers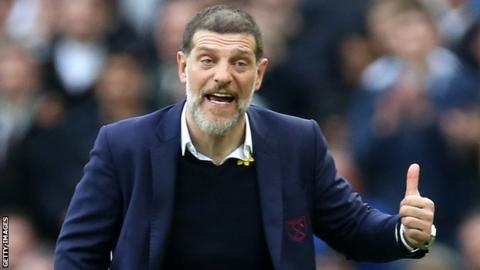 Slaven Bilic has shrugged off the speculation surrounding his future as West Ham manager.
They are 12th in the Premier League but have lost their last three games, stoking rumours over his future.
But Bilic, who has another year on his contract, insists he just wants to get back to winning ways, starting at Hull on Saturday.
"I just concentrate on my job. Nothing has changed in the last few days. I am focused on the next game," he said.
"That [speculation] does not worry me. We are in a position where we can have a good finish to the season. But my head is clear and I am totally motivated and focused."
Hammers defender Aaron Cresswell says the players are fully behind their manager.
"Hopefully we can turn it around and take that pressure off everyone," said the 27-year-old.
"He is positive and passionate about his job. He is bubbly around the place and wants to stay in a positive mood and, as players, that's what we want.
"We know we haven't been good enough, especially of late."