2018 World Cup: Scott Brown available for Scotland v England qualifier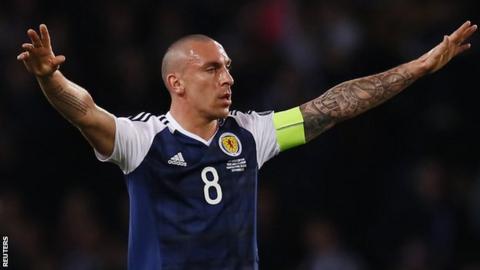 Scott Brown has told BBC Sport he is willing and ready to play for Scotland in the World Cup qualifier against England in June.
The Celtic captain, 31, has yet to hold talks with Scotland coach Gordon Strachan, but hopes to be selected.
Brown announced his international retirement last August amid injury concerns but returned in November.
"If I could captain my country against England on the 10th June (that) would be huge for me," the midfielder said.
Brown reversed his decision to retire and return to feature in the defeat by England at Wembley in November.
'I retired for the right reason at the time'
He earned his 52nd cap in last month's World Cup qualifying victory over Slovenia at Hampden, a result which kept the Scots' feint hopes of qualifying for Russia 2018 alive.
Scotland sit fourth in World Cup qualifying Group F, having collected seven points from their first five fixtures.
England top the group on 13 points, with Slovakia second on nine points and Slovenia one point ahead of Strachan's side.
West Brom midfielder Darren Fletcher assumed the captaincy after Brown elected to withdraw from Scotland duty last year, though the Celtic man reclaimed the armband against Slovenia in Fletcher's absence.
"I've spoken to the gaffer [Brendan Rodgers] and I've spoken to Gordon Strachan as well," Brown said. "We've had a long chat about holidays and that I can play.
"I believe that, if I'm selected, then I can play on the 10th of June (against England) even though it's two weeks into my holiday.
'I was always going to pick Celtic'
"I'm enjoying going back to Scotland and I retired for the right reason at the time. I was feeling a little bit that I couldn't push my body, but now I believe I'm a lot fitter and a lot stronger; I can push my body for those five or six games a year for Scotland.
"To go out and captain your country against Slovenia, and to win at home, was fantastic for me.
"It reminded me of the good times of going away for Scotland, and not the bad times when you're injured and struggling to play."
Brown concedes that he may have been too "quick" in arriving at his initial decision to retire.
"I went into retirement due to me being injured at the end of last season. I spoke to Gordon and he understood where I was coming from. We had a long chat and he said I needed to have a long time off to come back in.
"I was maybe a little bit quick with making that decision about retirement - I should've spoken to him (Strachan) about taking a few games off here and there, and seeing how my body is, then seeing how my body is for the next campaign.
"But I made that decision and it was the right decision for me at the time because I couldn't push my body; I didn't feel that I could give 100% for Scotland and Celtic - I had to pick one of them, and I was always going to pick Celtic because they've been so loyal to me over the past 10 years."
You can watch the interview with Scott Brown on Football Focus on BBC One, Saturday 8 April at midday.