Martin Olsson: Swansea City have to 'dig deep' says defender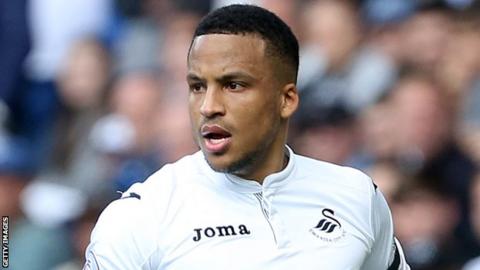 Defender Martin Olsson says Swansea City are in a "scrap" as they bid to escape relegation from the Premier League
Swansea slipped back into the relegation zone after Spurs' late comeback earned a 3-1 win on Wednesday.
But Olsson, 28, says Swansea can take points from Saturday's visit to West Ham United.
"It's going to be a tough game but I'm confident we can go there and get something," Olsson said.
"When you're in a scrap like this you've got to work hard and maybe sometimes it's not pretty football.
"We've got to dig deep and work as a team. We've got a good team.
"We're not out of it and a few more wins and hopefully we'll be safe."
Swansea City head coach Paul Clement says his side are running out of time in their bid to avoid relegation, with seven games remaining.
The Swans have not won in four games ahead of their first ever visit to West Ham's London Stadium home.
Slaven Bilic's West Ham are themselves in relegation trouble and are only five points ahead of Swansea in 15th spot.
Wednesday's 3-0 loss at Arsenal was their fifth consecutive Premier League defeat.