New Zamalek coach Augusto Inacio starting from 'zero'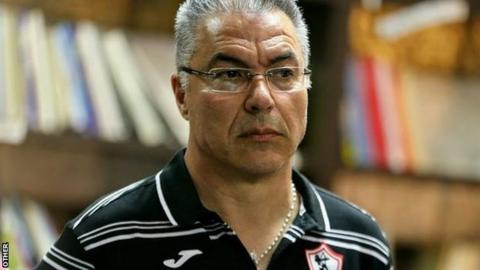 Zamalek's new Portuguese coach Augusto Inacio admits the Egyptian club does not have a team at the moment.
The former Portugal international was talking for the first time since being appointed earlier in the week.
The five-time African champions are currently fourth in the Egyptian league 18 points behind leaders and great rivals Al Ahly.
"My technical staff and I are starting from point zero," Inacio admitted.
"I have come to Cairo to work not on vacation."
Inacio, who won the Portuguese League Cup with Moreirense in January, challenged the players to prove themselves to him.
"Whoever does best in the training, whoever takes the chance are the ones we need," he added.
"We have a problem with fitness - some of the players are overweight."
The 62-year-old says he is aware that under current club chairman Mortada Mansour none of the last five coaches has been in charge for more than 17 matches.
"I'm a professional coach and I will do my best," he insisted
"But I will not accept anyone taking decisions for me - I who decide about the football team.
"When I was in Qatar a club official tried to take decisions for me about the football team but I refused
"I know a lot of people would like to see Zamalek fail but I will do my best."
As well as improving Zamalek's league position Inacio will be aiming for success on the continent with the team already qualified for the group stage of the African Champions League.
The Cairo club lost in the 2016 final to South Africa's Mamelodi Sundowns 3-1 on aggregate.