Garth Crooks' team of the week: Coutinho, Alli, Ibrahimovic, Luiz, Hazard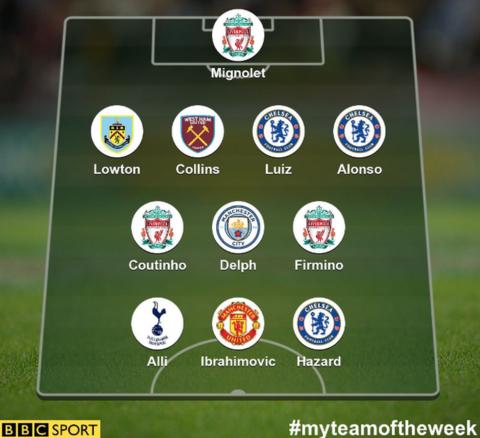 Chelsea beat Bournemouth 3-1 to stay seven points clear at the top of the Premier League, while Tottenham remain second after a 4-0 win at home to Watford.
Liverpool stay third with a 2-1 win at Stoke City, Manchester City remain fourth following a 3-1 victory over Hull City, and Manchester United climb up to fifth as they beat bottom club Sunderland 3-0.
Elsewhere, there are wins for Southampton away to West Brom, West Ham against Swansea and Everton at home to Leicester, while Middlesbrough v Burnley ended goalless.
Do you agree with my team of the week or would you go for a different team? Why not pick your own team of the week from the shortlist selected by BBC Sport journalists and share it with your friends?
Pick your Team of the Week
Pick your XI from our list and share with your friends.
Goalkeeper - Simon Mignolet (Liverpool)
He's taken a fair amount of stick during his time at Liverpool but the hug from Jurgen Klopp at the end of the match seems to suggest goalkeeper Simon Mignolet was not just in good form but had done something quite special. It was the save from Saido Berahino that did it - costing Stoke a point while keeping Liverpool on course for a Champions League spot.
Moments before, Mignolet also made a point-blank save from Charlie Adam when he and Berahino practically apologised to each other for taking the strike. However, in my view, Klopp has failed to address the most obvious issue facing Liverpool since the start of the season - that is their back four.
Mignolet has recovered his season with some sparkling performances since being dropped earlier in the campaign. Yet if the German manager had got his back four right it's difficult to see how Chelsea could be 12 points clear of the Reds with six games left to play. Hugging Mignolet in sheer relief that his keeper has kept him in with a massive shout of Champions League football next season is a bit of a cop out for me. Liverpool should have been challenging for the title.
Right-back - Matthew Lowton (Burnley)
Matthew Lowton's headed clearance off the line from Stewart Downing's free-kick was absolutely sensational. For the full-back to recognise that keeper Tom Heaton was vulnerable and Downing was about to put the free-kick over the wall and into the top right-hand corner was intuitive genius.
Lowton left the wall having spotted the danger. But if that wasn't enough he almost immediately afterwards cleared off the line again - this time from Daniel Ayala's header. These two clearances were not just brilliant but game-changers. I've seen defenders panic in those positions and head the ball into the roof of their own net or get their feet in a tangle at the crucial moment.
Lowton was as steady as a rock and kept his eye on the ball - clearing his lines and the danger. It's these moments in games that define seasons for teams like Burnley. This was a fixture that produced no goals but, in the final analysis, Burnley didn't care. They have begged, borrowed and stolen points this season and Lowton - like their entire back five - did a superb job.
Centre-back - James Collins (West Ham)
West Ham boss Slaven Bilic was manic throughout this affair and understandably so. The Hammers had lost five games on the bounce and rumours were rife that West Ham's directors had a contingency in place - whatever that meant - had Bilic suffered a sixth consecutive defeat.
There was so much riding on this result and Bilic did well to put his faith in an old head with a lot of experience. James Collins was that man and he did everything that needed to be done. He was magnificent in the air and needed to be, particularly when Fernando Llorente came on in the second half for Swansea.
The Spanish centre-forward raised the stakes for the Hammers and it forced Collins to put his body on the line on a number of occasions.
Swansea, on the other hand, seemed like a team who were suffering from stage fright and paralysed by fear. It would appear their 3-1 drubbing at home to Spurs in midweek had a far bigger impact on the team's confidence than they realised.
Centre-back - David Luiz (Chelsea)
What a wonderful ball from David Luiz to Victor Moses. It resulted in Diego Costa's superb turn and Chelsea's fortuitous opening goal. I'm not in the least bit surprised by Luiz's ability to knock a 40-yard pass. This is a defender with so much ability he can do that and much more.
However, as the season draws to a close and Chelsea put a date in the diary for a trip to the Premier League engravers, I would like to commend manager Antonio Conte and technical director Michael Emenalo for having the foresight and courage to bring Luiz back to Stamford Bridge.
The Brazil international is unrecognisable from the irrational player we saw during his first period at the club. Since his return, he has played some glorious football and been a unifying figure in a new era at the Bridge.
If Chelsea are serious about winning the Champions League next season they must do whatever it takes to keep Luiz. There aren't many great centre-backs out there, and those who do exist are with the biggest clubs in Europe. With a couple of strong additions to their squad, Chelsea could be serious Champions League candidates.
Left-back - Marcos Alonso (Chelsea)
I didn't know who was going to take Chelsea's free-kick - David Luiz, Victor Moses or Marcos Alonso. In the end it was Alonso who bent it past Artur Boruc with extraordinary accuracy.
The harsh truth for Bournemouth, and the rest of the Premier League, is any one of those players could have planted the free-kick past Boruc, such is the quality and confidence that exists in the Chelsea ranks at the moment. The truth is I couldn't leave Alonso out of my team of the week having scored a goal like that.
Alonso has done this sort of thing before, of course, and I have no doubt he will do it again before Chelsea lift the Premier League trophy. Which they will.
Midfield - Philippe Coutinho (Liverpool)
Philippe Coutinho didn't feel great on the morning of the match and arrived in the Potteries by car feeling OK before deciding to declare himself fit for the game against Stoke City. That was the beginning of the end for the Potters. From the moment Coutinho came on the pitch at the start of the second half, I knew it was a game-changer.
The Brazilian had already warned Lee Grant he was on the prowl, having forced the Stoke keeper to produce a fantastic save just after he arrived on the pitch. It was at that moment you knew whatever symptoms Coutinho had before the game had well and truly passed. However, it was his one-touch finish on the edge of the box that I thought was so impressive.
Coutinho hung around waiting for something to happen - anything that might give him an opportunity to pounce. When it came he was equal to it. All credit to Coutinho for getting to Stoke. The easy option would have been not to play and no-one would have blamed him. Instead he put himself on the line for his team-mates and his manager. I hope Jurgen Klopp remembers that in the future when Coutinho is having a bad time.
Midfield - Fabian Delph (Manchester City)
I saw Fabian Delph play against Chelsea in midweek and, considering it was his first start of the season, he looked in great shape and played like it. All credit to him. Delph has been plagued with injuries and had such little first-team game time, yet still has the presence of mind and the right attitude to keep himself in such tip-top condition.
He ran out of steam at Stamford Bridge, but not so against Hull. For Delph to retain the level of fitness at this stage of the season, and go on to have such an impact on Manchester City's victory over Hull, is a credit to his professionalism.
There will be those who will argue that professional players should keep themselves in the best shape ever - after all, it's their job. Those cynics have no idea of the mental discipline required to keep yourself at the top of your game in mind and health when you have no fixture to look forward to.
At the end of the game against Hull you could see how delighted Manchester City's backroom staff were for him. They have also played a part in the recovery. Hopefully Delph can now start to think of playing for his country again. Heaven knows we could do with him.
Midfield - Roberto Firmino (Liverpool)
What a goal by Roberto Firmino. The ball from Georginio Wijnaldum was wonderful but the finish even better. It's one thing your team-mate delivering the pass of the match. It's something entirely different having received the ball at your feet and having the technical ability to put it into the back of the net. Firmino finished the move so emphatically. If the referee had decided to blow the full-time whistle there and then, no neutral observer would have complained - the quality of the finish was worthy of winning any match.
However, watching the goal in real time does not do the execution of the finish justice. The replay clearly identifies how Firmino takes a look at the ball as it arrives over his shoulder, watches it bounce in front of him, then takes a look at where Grant is positioned before deciding to hit the ball on the volley. Grant, who is slightly off his line in case Firmino decides to take him on, almost dares his opponent to take the volley due to the degree of technical difficulty required to execute the skill.
All this being played out, of course, in a couple of seconds. So imagine Grant, when the Brazilian calls his bluff and goes for the volley and smashes it into the back of the net, having left the Stoke keeper clutching fresh air. That's why the finish was so good and we all said 'wow'.
Forward - Dele Alli (Tottenham)
The moment Dele Alli bent his super shot around the well-beaten Heurelho Gomes in the Watford goal, former Spurs midfielder Jermaine Jenas said: "He's the player of the season for me."
Jermaine, preparing for Football Focus in the BBC green room, instigated a frightful debate prior to the programme around who deserved to win the PFA Player of the Year. Dion Dublin, Dan Walker, Martin Keown and myself immediately engaged in the argument with differing opinions but generally agreed the prize would probably go to either to Eden Hazard or N'Golo Kante.
Jermaine seemed incredulous that none of us had mentioned Alli and said that he wanted more flair from his midfield players which suggested Kante came up short in that department as far as he was concerned. A fair point and a perfectly reasonable assertion under the circumstances.
It did seem odd at the time bearing in mind Alli was having a terrific game against Watford and Spurs were second in the table largely due to Alli's contribution this season. That said, I don't think Alli will win the PFA Player of the Year even though Jermaine put together a very credible case.
Forward - Zlatan Ibrahimovic (Manchester United)
There have been some notable performances this week, from strikers in particular, who would have, under normal circumstances, made my team of the week. However, this wasn't a normal week. Romelu Lukaku and Son Heung-min scored twice for Everton and Tottenham respectively, but it was Zlatan Ibrahimovic who impressed me the most.
Playing up front on your own is always a task but it never seems to bother the Manchester United striker. Against a Sunderland side sporting 11 men at the time, the Swede produced a goal out of nothing. He set up Marcus Rashford's goal and you can see how his team-mates respond to his presence.
I don't think it's a coincidence that Luke Shaw has timed his return to the team with Ibrahimovic's return. The lad has been put under immense pressure by United boss Jose Mourinho and, if the game against Sunderland is anything to go by, he has stood up to Mourinho's bully-boy tactics very well. I'm not sure Mourinho would get away with such a public condemnation of an employee in any other form of employment.
Nevertheless, this was a very important victory for United and keeps them in the hunt for a fourth-place finish. I would have liked to have seen the outcome of this game against Sunderland with a referee who recognises the difference between a tackle that looks dangerous and one that actually is dangerous. Sebastian Larsson's tackle on Ander Herrera neither looked dangerous nor was dangerous. So why the player received an automatic red card from referee Craig Pawson is a total mystery to me.
Forward - Eden Hazard (Chelsea)
If David Luiz's presence at Chelsea is central to any future Champions League campaign, then Eden Hazard is imperative. Real Madrid will know all about Hazard's potential but will most certainly have noted his form this season. This is without doubt his best season in the Premier League. His performance against Bournemouth was wonderful to watch.
I haven't seen a player for sometime enjoy his football as much as Hazard is at the moment. He is playing with such freedom and confidence that makes me think that an audacious offer from Madrid is almost certain. There are not many players who can resist playing at the Bernabeu Stadium on a regular basis.
So it is crucial that Chelsea boss Antonio Conte removes the rumours circulating the game about his possible return to Italy and starts focusing on the Champions League with Chelsea next season. That must be the next stage in Chelsea's development.