Seamus Coleman: Everton boss Koeman & captain Jagielka visit injured Ireland defender
Last updated on .From the section Football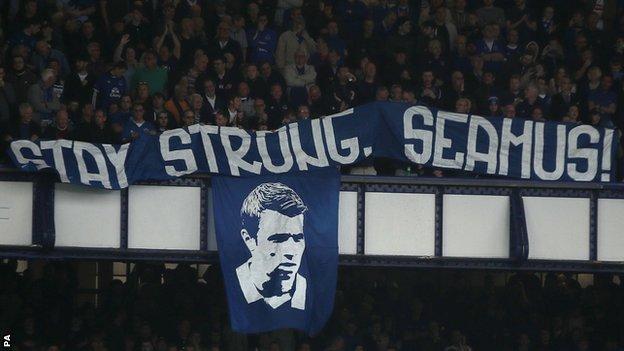 Everton manager Ronald Koeman and captain Phil Jagielka have visited injured defender Seamus Coleman at his home in the Republic of Ireland.
Koeman posted a photo on Twitter of the trip to Donegal, reporting full-back Coleman as looking positive and strong.
Coleman, 28, suffered a broken leg in a tackle with Wales defender Neil Taylor during a World Cup qualifying match in Dublin on 25 March.
Koeman's photo showed Coleman wearing a protective boot on his right leg.
The player needed surgery on his fibula and tibia after the match at the Aviva Stadium, which ended in a 0-0 draw.
Aston Villa player Taylor was sent off for the challenge.
On Sunday, Everton supporters displayed a banner with a message of support for Coleman during the Premier League match against Leicester City at Goodison Park.
"Seamus is positive and he is feeling strong," Koeman told Everton's website.
"He is really grateful for the messages he has received from Everton fans and from people all over the world.
"Before he comes back to start his rehabilitation, he will spend up to 10 more days at home in Killybegs before starting out on his recovery from the injury."