Marc Bartra: Borussia Dortmund defender injured in bus attack 'doing much better'
Last updated on .From the section European Football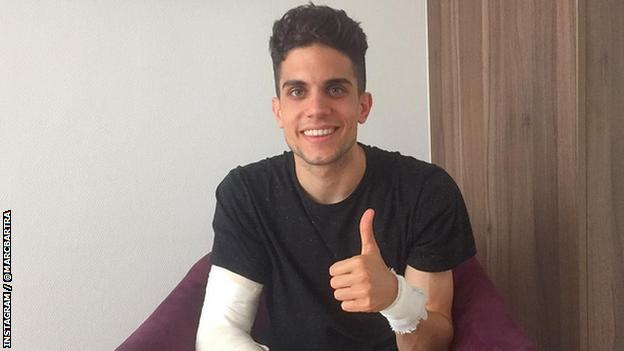 Borussia Dortmund defender Marc Bartra says he is "doing much better" after being injured when his side's bus was damaged by explosions in Germany.
Bartra, 26, fractured his wrist in the incident, which led to Tuesday's Champions League quarter-final first-leg against Monaco being postponed.
The match has been rescheduled for Wednesday, with a 17:45 BST kick-off.
"Thank you everybody for all your support and your messages," Spaniard Bartra posted on social media.
"All my strength to my team-mates, supporters and fans and to [Dortmund] for tonight's match."
The German club said Bartra had an operation on Tuesday after "breaking the radial bone in his arm and getting bits of debris lodged in his hand".
The centre-back, who has 12 international caps, joined the Bundesliga side from Spanish champions Barcelona in June last year.
Captain Marcel Schmelzer said: "We're all in shock and our thoughts are with Marc. We hope that he will make a speedy recovery."
Dortmund chief executive Hans-Joachim Watzke said the club will "not bend before terror" after the attack.
"We want to show that terror and hatred can never dictate our actions," he said chief executive.
"This is perhaps the most difficult situation that we have faced in the past decades," he added.
Watzke said he he had spoken to players in the dressing room, urging them "to show society that we do not bend before terror".
He added: "We do not just play for us today. We play for everyone - no matter whether Borussia, Bayer or Schalke supporters. And of course we play for Marc Bartra, who wants to see his team win."
Watzke earlier confirmed the "explosive strike on the bus" happened as it left the team hotel, with "three explosive devices placed and triggered on the edge of the road".
Goalkeeper Roman Burki, who was sitting at the back of the team bus alongside Bartra, told Swiss newspaper Blick: "We left the hotel and went down the street. The bus turned down the main street, and there was a giant explosion.
"After the bang, we all ducked in the bus and those who could threw themselves to the ground. We did not know what had happened.
"We're all shocked - nobody thought of a football match in this moment."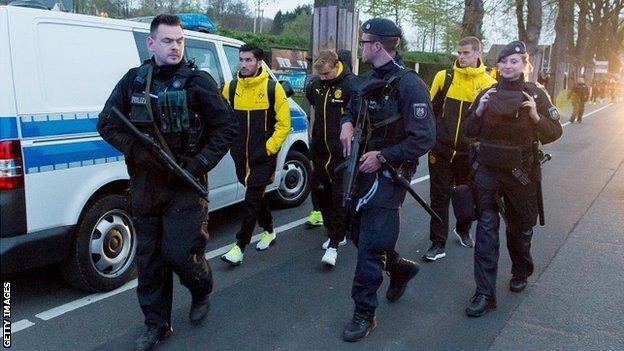 The bus was damaged at 18:15 BST on Tuesday - 90 minutes before kick-off - about six miles from the Westfalenstadion in Dortmund.
Police said there were three explosives hidden in a nearby hedge. They called it "a targeted attack" and found a letter at the scene claiming responsibility for the attack.
Federal prosecutors revealed on Wednesday that an Islamist suspect had been arrested in connection with the incident.
Police are preparing for a "large deployment" at the rescheduled game, and security at Wednesday's other Champions League ties - Atletico Madrid v Leicester City and Bayern Munich v Real Madrid - is being stepped up.
"Measures are being reviewed and stepped up wherever and whenever it is needed," Uefa competitions director Giorgio Marchetti told BBC Radio 4's Today programme.
"The security risk is the top priority element which is included in the preparation of matches."
Tuesday's match was initially delayed and, with thousands of fans already inside the stadium, was postponed 15 minutes before the scheduled kick-off, with Monaco fans chanting in support of their opponents.
Fifa president Gianni Infantino condemned the incident, while Uefa counterpart Aleksander Ceferin said he was "deeply disturbed" and praised the decision to postpone the game.
Watzke said: "I have to express a huge compliment to our fans, who have dealt with it very well, objectively, reasonably and solidly.
"It will not be easy to get that out of the mind. I think the team will feel it on Wednesday."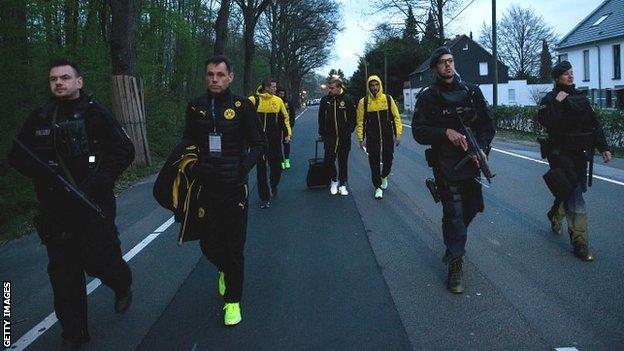 With the second leg in Monaco set for 19 April, Watzke said there was no choice but to play the game on Wednesday, as Monaco have a domestic game against Dijon on Saturday.
Soon after the match was rearranged, people in the Dortmund area offered to host Monaco fans who chose to stay in Germany for an extra night or two, using #bedforawayfans.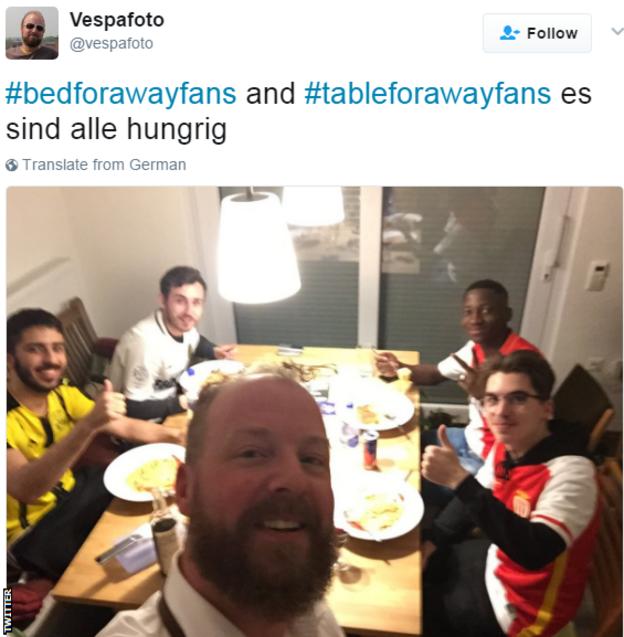 And Monaco offered to reimburse their supporters staying in Germany with up to £67 (80 euros).