Hibernian: How well are Championship winners equipped for Premiership return?
Last updated on .From the section Football
"We're back," declared Hibernian boss Neil Lennon as the strains of 'Sunshine of Leith' rang around Easter Road on Saturday in celebration of the club's return to Scotland's top flight.
Eleven months on from their first Scottish Cup triumph in 114 years, the feel-good factor around the Edinburgh outfit continued with confirmation their three-year spell in the second-tier Championship is over.
"Hopefully we will not be back here for quite a while," Lennon added.
"We've handled the big games pretty well. We've been a little bit inconsistent at times, but I think next season, we have players who can play at the Premiership level. I think they'll enjoy it and flourish there. The hard bit for me was getting out of this division, because it's so competitive."
So, having justified their position as favourites by sealing the title with three games to spare, how well equipped are Hibs for their return to the big-time?
BBC Sport Scotland spoke to chief executive Leeann Dempster (LD) and former players Michael Stewart (MS) and Craig Paterson (CP) to assess their prospects.
Will there be a major overhaul of the squad?
LD: "There are a lot of great things happening at the club. We have a fantastic academy with some of the best young players in Scotland coming through. We have got a great squad of players and a great management team, and we want to keep as much continuity as we can. We didn't get promoted in the last two years but we had a brilliantly solid base."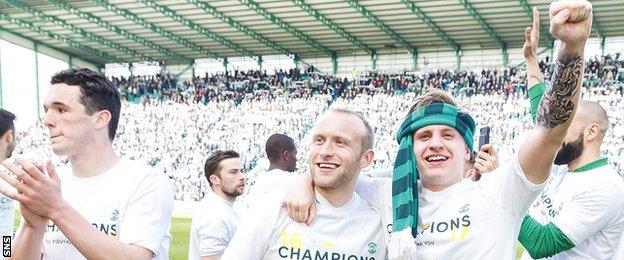 MS: "I don't think there needs to be a major overhaul. If you look at the quality in the side it's a vast improvement on the teams Hibs had prior to their relegation. That is borne out by the fact they have done so well against top-flight opposition in the cup competitions during their time in the Championship. There definitely needs to be more goals in the side as apart from Jason Cummings it's a bit lean and he needs more support.
"They have been linked with Liam Boyce and someone of that ilk would be a fantastic signing for Hibs. Louis Moult at Motherwell is another guy who has shown he can score in the top flight regularly. I'm sure they won't be far off the wish-list for Neil Lennon."
CP: "I don't see a major overhaul. I don't imagine Hibs have the kind of money to do that, but certainly you want to try and cherry-pick one or two players you think can come and make an impact in the team. They also need to fend off any interest from other sides in the good players they have there. I think Hibs have shown against the likes of Hearts [in the Scottish Cup] and Aberdeen [League Cup] that they can compete at that level and I'm sure they'll be thoroughly looking forward to doing it on a weekly basis."
How important is ensuring Neil Lennon stays?
"I'm very proud to be the manger of this club, I've really enjoyed the season, and I've had great support from people like (director of football) George Craig, (chief executive) Leeann Dempster and (chairman) Rod Petrie," said Lennon. "The board have made my job a lot easier, and the support I've had throughout the city and the club has been fantastic."
LD: "Neil is a wonderful manager and he has done a great job. He is fantastic with the players, he has a good team behind him and he is genuinely enjoying his time here and we love having him here. It is a great partnership and long may it continue."
MS: "They've got a squad and a management structure there that is vastly improved on what they had when they were in the Premiership, so it would be a perverse situation if they went back to something of a lesser standing when they are in the top flight."
CP: "I think the biggest thing the board did was push the boat out and get Neil Lennon. He was a winner as a player, a winner as a manager, he brings a winning mentality and watching Hibs this season, I think that's filtered down to the players.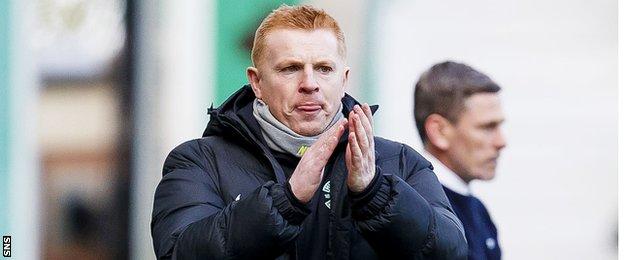 "Watching Hibs a couple of seasons ago, going late into games, you always thought they might just blow it. This season, they look comfortable, you're thinking Hibs are going to nick a goal and win the game, and that's something they've got to keep going. The manager brings that - it's important you keep him at the club. He's given them the Championship title, now you have to give him the tools to go on and take the job on in the top division."
What is a realistic target next season?
MS: "If you look at the squad they've got at the moment, it's good enough to challenge for the top six and I would expect them to add to the squad they have got. So I don't see any reason why they won't target the top six and I'm pretty sure Neil Lennon wouldn't settle for anything less."
CP: "Hearts and Rangers went up and were immediately competitive. Hibs have got to believe they're in the same category. They're the same kind of side, they're a team who should have aspirations of competing in that top half.
"The club have spent a lot of money over the last couple of years keeping a really strong squad together. At the third time of asking they've got out of that league, but they've spent a lot of money to do it.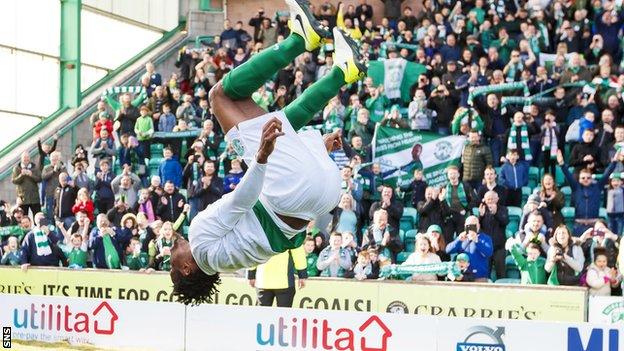 "They're a good team this season, they've proved in cup ties they can match teams from the top division, but like every club, they need to add a little bit of quality. Keep the good players, add in one or two areas, and I think Hibs would definitely be competitive in the top half of the Premiership."
LD: "We have been a Premiership club in terms of behind the scenes even though we weren't promoted in the last couple of years. But we have the certainty of promotion now and the finances that come with it. We all know how big this club is and this really is the first stage of where we need to be."
Will they continue to attract big crowds?
Hibs' average league attendance this season has risen by more than 5,500; the average is 4,000 more than their last season (2013-14) in the Premiership. They have not had less than 13,000 for a Championship game this season.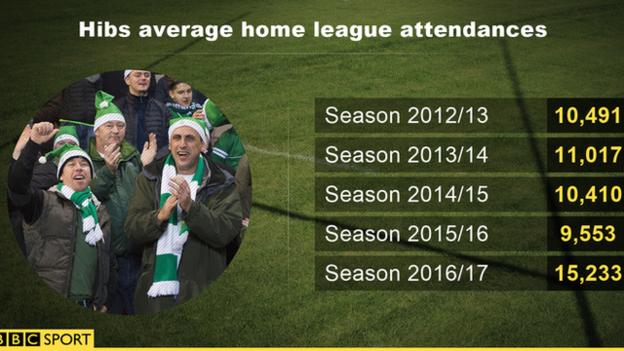 LD: "Importantly, the supporters have already bought almost 8,000 season tickets even before we knew we were promoted, which is fantastic. I have to thank them for helping us - we genuinely couldn't have done it without them."
CP: "They've done it in the face of adversity; now the fans should be looking forward to games against Rangers, Celtic, and the derby [v Hearts] four times a season. The club have got to enthuse them. The way you do that is give them something to look forward to, and that means a team worth watching and following, and that takes a little bit of money, unfortunately."
Does it make Premiership more competitive?
CP: "I think it does. You add in another quality team who've got a support and a travelling support, that always adds something to the mix and teams will be happy to see that. But for Hibs, it's all about testing yourself, and they want to do that. They've been desperate for three seasons to get back into an arena where you can go up against the big guns and show you can do it."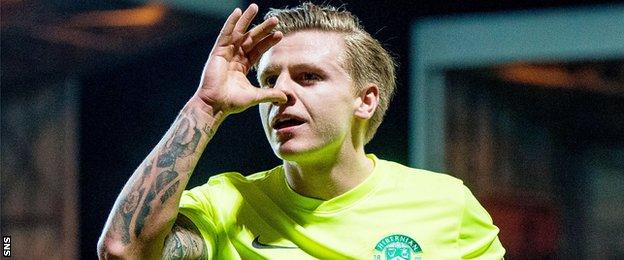 MS: "Celtic are out there on their own at the moment but the make-up of the top six inevitably will be more competitive with Hibs in there. It's a benefit to the game in this country to have a club the size of Hibs back in the top flight. It makes it a lot more attractive for players and fans."
How will Premiership clubs view their return?
CP: "I think they'll enjoy it. People will love coming to Easter Road - a great stadium, good playing surface - but they know it's another team that's going to be very difficult to beat.
"If you're in that bottom half, you don't want quality coming up every year. They've had Hearts, Rangers, now they've got Hibs. It is difficult up there, because every time someone comes up, you know that it might just push you down into that area where you're fighting relegation yet again."