Willie Kirk: Bristol City Women boss wants more WSL games at Ashton Gate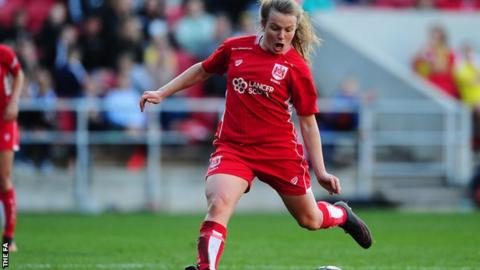 Head coach Willie Kirk wants Bristol City Women to play more games at Ashton Gate, after playing there on Saturday for their first league match of 2017 in a rare double header with City's men.
Kirk's Vixens lost 3-1 to Reading in Women's Super League One, kicking off an hour after the end of Bristol City and Barnsley's Championship meeting.
The WSL side had played at Ashton Gate previously, for Champions League games.
"I'd love to play all our home games here," Kirk told BBC Radio Bristol.
"I enjoy playing at the college [Stoke Gifford Stadium] but to play our home games here would be brilliant. It suits us.
"It is a nice, big, flat pitch in unbelievable condition to play football on. The girls really enjoyed it so it would be great to be back here sooner rather than later."
'More Bristol City fans can get behind us'
A crowd of 1,127 was recorded for Saturday's loss to Reading, in what was the Vixens' first game back in the top flight after promotion in 2016, but the former Hibernian Ladies boss admitted he had hoped for more.
"To be honest, I'm a little bit disappointed with the attendance," Kirk added.
"Maybe that's me being greedy, but I think more Bristol City fans can get behind us and can come out. More can stay after the men's game.
"We were competing with Chelsea against Spurs in the FA Cup semi-final, which is tough, but actually being in this stadium and playing was fantastic."