Patrick Roberts passes up U20 World Cup spot to stay at Celtic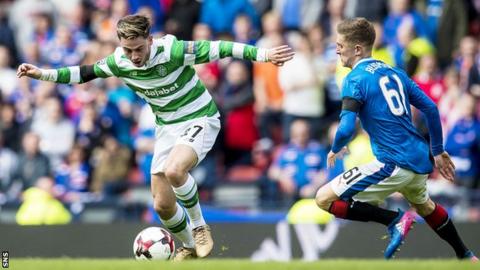 Winger Patrick Roberts has opted to remain with Celtic until the end of the season rather than join the England squad for the Under-20 World Cup in South Korea.
The 20-year-old will end his 18-month stint at Celtic on loan from Manchester City at the Scottish Cup final on 27 May, when his team play Aberdeen.
"We've had a brilliant season so far," said Roberts of the treble-chasers.
"In such a special year for the club I want to be part of everything here."
Roberts called the chance to help add the Scottish Cup to the Premiership and League Cup trophies "a once in a lifetime opportunity".
"I spoke to the gaffer and this is just something I really wanted to do," he told the Celtic website.
"I have a great relationship with everyone around the England squad and I wish all the other lads and the management and backroom team the very best for the World Cup in South Korea."