Neil Harris: Millwall boss hopes to win promotion in 'the best way'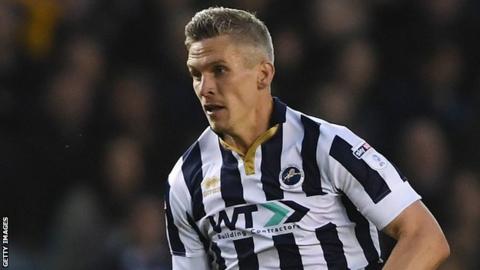 Millwall boss Neil Harris has 'said sorry' to supporters for making them pay for another day out at Wembley.
The Lions will play Bradford in the League One play-off final after beating Scunthorpe United in the semi-finals.
The game will be Millwall's fifth visit to Wembley in eight years, having made four play-off finals and the 2012-13 FA Cup semi-final since 2009.
"I'll have to apologise to our fans, I suppose," 39-year-old Harris joked to BBC Radio London.
"You have to remember it's not cheap going to Wembley.
"It's not cheap taking the kids, taking your wife, and your uncle and aunt, and your mother-in-law who wants to go for the first time in 15 years to a game of football, but they'll come.
"Bradford will bring a big crowd, it'll be an almost sold-out stadium I'm sure and they'll make some noise."
Millwall fell one game short of yet another trip to the national stadium earlier this season, reaching the FA Cup quarter-finals before suffering a 6-0 defeat by Tottenham.
"For me, slightly better individual performances at the start of the season from big players, from experienced players, and take the cup run out of it, I think we'd be in the top two," Harris continued.
"But now we've got an opportunity to do it the best way, and winning the play-off final is the best way to get promoted.
"We'll study Bradford diligently, prepare for next week and pick a team that's capable of winning the game."