Bolton Wanderers: League One side reject winding-up petition claims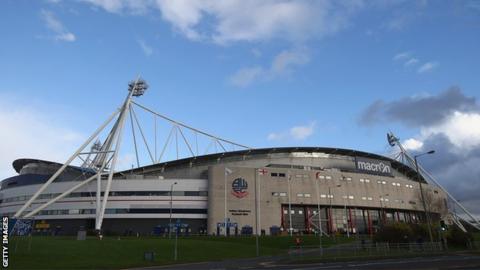 Recently promoted Bolton Wanderers have denied they have been issued with another two winding-up petitions.
It had been reported HMRC and Special Catering Company had also handed Bolton winding-up petitions.
The Trotters already have a winding-up petition over an unpaid £5m loan to finance company BluMarble.
"It is important to note that the club and Burnden Leisure have not been issued with any petitions at this moment," said a club statement.
"Bolton Wanderers is working diligently to resolve this situation. The Burnden Leisure matter is being addressed today.
"In one of the media reports it has been suggested that the issue with Special Catering Company is still outstanding, however, this matter was settled several months ago."
Bolton secured an immediate return to the Championship this season after finishing second in League One under boss Phil Parkinson.
"I've read reports that we're £25m in debt but we aren't anywhere near that figure," chairman Ken Anderson told BBC Radio Manchester last week.
"There is a £5m loan from BluMarble made to Sports Shield BWFC, which was Dean Holdsworth's company, we do owe that - it is something we've got to deal with.
"There aren't any other loans other than the loan on the hotel but that one is like having a normal mortgage on your house."
Analysis
BBC Radio Manchester's Jack Dearden
Bolton did brilliantly under what was going on off the field to win promotion at the first time of asking, they deserve lots of credit for that.
I'm sure people are working very hard behind the scenes to sort this out.
But it cannot, whatever Bolton say, be good news and the timing quite frankly couldn't have been much worse.