2017 Muratti Vase: Guernsey's Steve Sharman slams critics ahead of Jersey final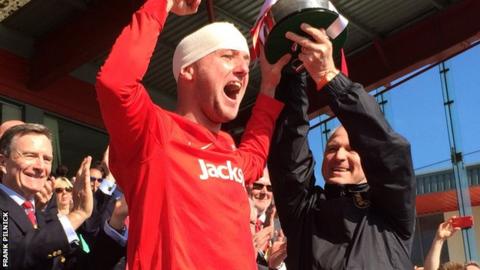 Guernsey boss Steve Sharman has hit out at critics of his team as they look to avoid a third Muratti final defeat in a row against rivals Jersey on Saturday.
Sharman led Guernsey to Island Games gold in 2015 but said his job was in doubt after last year's Muratti loss.
Asked about his side's doubters, he told BBC Radio Guernsey: "It's very easy from an armchair to criticise.
"That's opinion without responsibility, and I don't see them lacing up their boots and doing anything about it."
Sharman, who could call on record Guernsey FC scorer Ross Allen, says he has known his starting XI for the tie for several weeks.
He added: "It would be interesting whether those doubters have ever gone up to a player, or anybody who they doubt, and actually said it to their face - I doubt they have.
"The players that will play have given more to a Guernsey shirt than anybody in this island could ever hope for."
Jersey were last year managed by former Aston Villa boss Brian Little as they won the 100th Muratti final at Springfield.
Martin Cassidy is now in charge, with his new captain Cav Miley saying the Sarnians have an edge due to the bulk of their squad being teammates for the island's club side on a weekly basis.
"I do think they've got a huge advantage over us with the amount they've played together," Miley told BBC Radio Jersey.
"[But] I think if we show the heart and desire we have in the last two years I think we could be OK."
Cassidy added: "We are going through a bit of a transition, as are Guernsey, and it's important our experienced players get us through those tough times by managing the ball well."
Guernsey squad: Josh Addison, Leroi Riley, Ryan-Zico Black, Jacob Fallaize, Matt Loaring, River Marsh, Kyle Smith, Paris Perreira, Tom De La Mare, Jamie Dodd, Simon Geall, Sam Cochrane, Keanu Marsh, Craig Young, Dave Rihoy, Dom Heaume, Ross Allen, Tom Dodds.
Jersey squad: Euan van der Vliet, Danny Birrell, James Scott, James Queree, Stuart Andre, Rob McBey, Jack Cannon, Calvin Weir, Chris Andrews, Michael Weir, Jack Boyle, Cav Miley, Kieran Lester, Craig Russell, Karl Hinds, Adam Trotter, Joe Kilshaw, Ben Gallichan.