Nottingham Forest's Britt Assombalonga reiterates DR Congo desire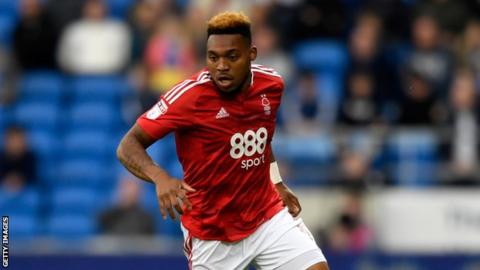 Nottingham Forest striker Britt Assombalonga has reiterated his desire to play international football for DR Congo.
He was talking after helping his side avoid relegation from the Championship.
The 24-year-old is keen to play for the Leopards despite rejecting the chance to go with them to the Africa Cup of Nations in January to concentrate on his club career.
"I was born in Congo so that's where I want to play," he told the BBC Sport.
"My dad played there so it's not really difficult. People might say its the easy way but that's where I was born, that's where my family is from."
His father Fedor Assombalonga is a former DR Congo international and his brother Christian plays in the lower English leagues.
He was born in the Congolese capital, Kinshasa and came to England with his family when he was eight months old and is proud of his heritage.
"I am African and I want to show people that they can pick to go and play for a team in Africa and that's what I have done, that's what I have chosen," he insisted.
"It's good for me because I am proud to say I am African, I am proud to say I am from Congo and that's the team I would like to play for."
Assombalonga was the hero for Forest last weekend as he scored twice in their final game of the season against Ipswich to ensure his side were not relegated.
"This weekend was special but nervy. I wouldn't call it a big achievement because you never want to be in that position," he explained.
"It's nice to see everyone excited because we didn't get relegated but as a player, as a coach you never want to be in that position."