Shaun Whalley: Shrewsbury Town midfielder signs new two-year contract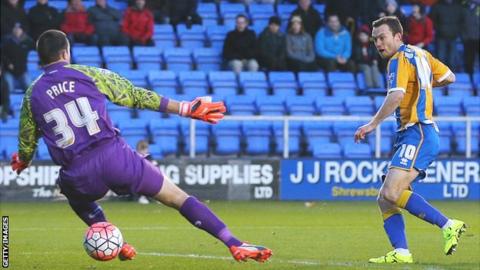 Shrewsbury Town have extended the contract of midfielder Shaun Whalley.
The 29-year-old, who joined from Luton Town in June 2015, has signed a new two-year deal, having made 35 appearances this season.
He told the club website: "I wasn't interested in leaving to go anywhere else. I love the club.
"It's just a great place to be. I'm hoping we don't fight relegation like the last two seasons and have a good go at this (next) season."
Bright future for Morris
Meanwhile, Shrewsbury manager Paul Hurst believes former Middlesbrough defender Bryn Morris has a bright future in the game.
The 21-year-old, who signed a short-term contract in January, has been offered a new deal by the club.
Hurst said: "He found it hard initially but he know what that's all about now. At the age he is at I feel he is one we can progress further and he can get better.
"I believe he can go on and have a good career. Whether that is here or not, I guess we will find out."