Jersey's Martin Cassidy targets Island Games gold despite Guernsey Muratti loss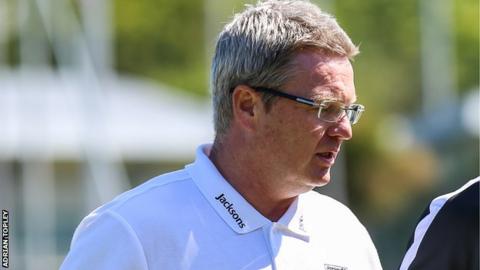 Jersey boss Martin Cassidy says his team are "definitely good enough" to win Island Games gold this summer, despite their Muratti loss to Guernsey.
His side were beaten 2-1 at Footes Lane on Saturday, which was Jersey's first defeat in the match since 2014.
Guernsey lost the 2015 Muratti final but still managed to win the gold medal at the Games two months later.
"I want to go there with this group of players and win it," Cassidy told BBC Radio Jersey.
"The bigger picture for us is we're a growing team and we've got a good bit of youth coming through.
"We're really pleased there's a Gotland Island Games coming up because we'll be aiming now to go there strong and looking to win that, because we're definitely good enough to win that."
Guernsey manager Steve Sharman was celebrating his first Muratti triumph, but was keen to put the spotlight on his squad.
"I've lost the last two Murattis - but this one's about the players winning, and they stood up," he said.
"We're taking a young group [to Gotland] but I think they're going to have a great time, and we're going there to medal again."