Jodie Botterill and Daniel Seviour to manage Jersey at Island Games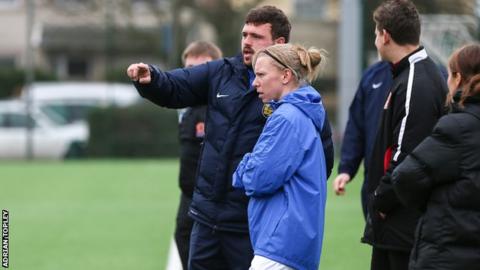 Former Wales forward Jodie Botterill and Daniel Seviour will take joint-charge of Jersey's women's side at the upcoming Island Games.
The pair have been in temporary charge since Simon Petulla resigned in March, overseeing two defeats in friendlies.
Meanwhile, prolific striker Catarina Andrade and Amy Brown have withdrawn from the squad for Gotland, replaced by Fiona MacKinnon and Ella Brennand.
Jersey will look to defend the gold medal they won on home turf in 2015.
Jersey FA chief executive Neville Davidson told BBC Sport: "Jodie and Dan have come in and organised things.
"They did very well against Sheffield United Women and basically they're moving things forward.
"They've committed to Gotland and after that we'll all sit down and see if they want to continue."