Bournemouth: Steve Cook looks to finish award-winning season as ever-present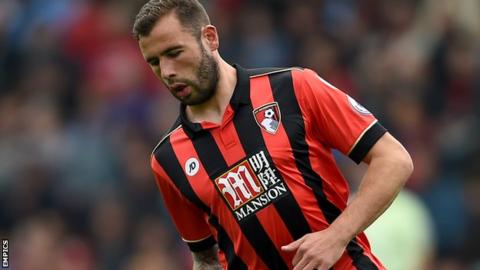 Bournemouth defender Steve Cook will not be asking for an early-season rest after being involved in every minute of this season's Premier League campaign.
Cook, 26, picked up three player of the year awards before Saturday's 2-1 win at home to Burnley.
The centre-back revealed hard work on his personal fitness in pre-season and becoming a father have helped.
"That's what it takes to play at this level," he told BBC Sport. "You need to be committed and look after your body."
Bournemouth's victory over Burnley lifted them into the Premier League's top half and ensured they surpassed last season's points tally with a game remaining.
Ever-present Cook was humbled to have been recognised by the supporters.
"I've been here a long time, but I've got to improve and keep up with the pace of this club," he told BBC Radio Solent. "It keeps improving every year at a fast rate.
"I won't be missing next week I can assure you of that," he joked. "I worked really hard in the off-season and got myself really fit and I think that's told this year."
Cook is preparing to get married this summer and for the arrival of his second child, two things he admits have given his game focus.
"You don't get distracted," he added. "You know what you've got to do at home and there's a responsibility with fatherhood that makes you willing to give everything.
"Joshua King's another younger lad who's really embraced fatherhood and that translates to the responsibility you take on to the pitch."