Russ O'Neill: Alfreton boss ends 10-year association with club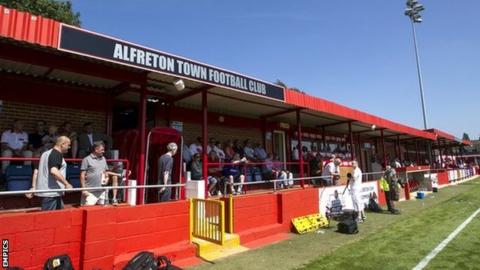 Manager Russ O'Neill has left Alfreton to allow new investment in the club.
It is understood the new investor in the National League North club wants to bring in his own manager.
O'Neill, 44, had been in charge of the team since February having been promoted from assistant after Nicky Law moved to Premier League side Burnley in a recruitment role.
"I understand. That's football and money does make the world go round," O'Neill told BBC Radio Derby.
"I think the investor has said 'if I'm going to come in I want to bring in my own friend, or something, as manager'.
"Ultimately it's absolutely gut wrenching to leave the club after 10 years. It's been a big part of my life but that's football and things move on and we have to accept that."
Chairman Wayne Bradley told the club website: "I have actively been looking at investment into the football club and there has been many decisions that have had to be made and relieving Russ of his duties was very hard."
Bradley confirmed a replacement for O'Neill will be announced in due course.