Bayern Munich take legal action against newspaper over Joshua Kimmich report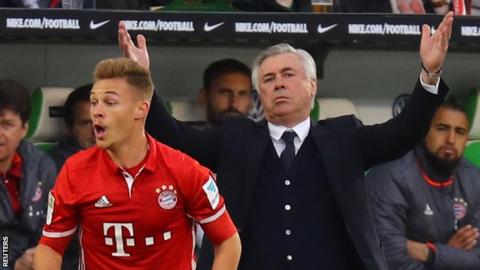 Bayern Munich are taking legal action against a Stuttgart newspaper after it reported that midfielder Joshua Kimmich would be leaving the club this summer.
Stuttgarter Zeitung claimed on Tuesday that Kimmich, 22, would depart Bayern because of a lack of games, despite him being under contract until 2020.
They stated that he was likely to sign for either fellow German side RB Leipzig or Manchester City.
"This is a monstrous fallacy," said Bayern chairman Karl-Heinz Rummenigge.
"This story lacks any foundation. Joshua Kimmich has a contract with FC Bayern until 2020 and will definitely play for the next season for FC Bayern."
In a statement on their official website, Bayern stated that the club had "immediately taken legal action against the Stuttgart newspaper".
German international Kimmich played for Leipzig for two seasons in the German second and third division before moving to Bayern in 2015 when now Manchester City boss Pep Guardiola was in charge.
He has started 15 Bundesliga games this season, coming off the bench 11 times as Carlo Ancelotti's side wrapped up a fifth straight title.