Dirk Kuyt: Former Liverpool and Netherlands forward retires after Feyenoord title win
Last updated on .From the section European Football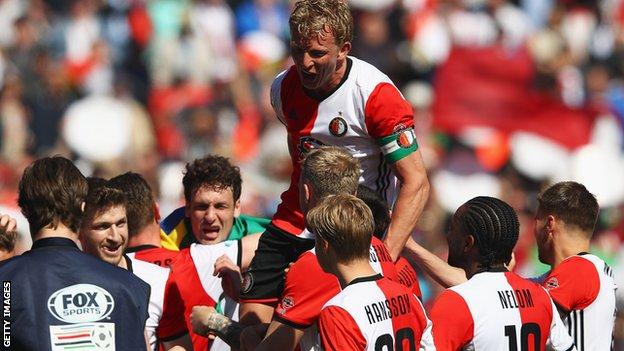 Feyenoord captain Dirk Kuyt has announced his retirement, three days after his hat-trick sealed the Dutch club's first title since 1999.
Kuyt started at Utrecht, moving on to Feyenoord, Liverpool and Fenerbahce, before returning to Rotterdam in 2013.
"All my dreams have come true," said the former Dutch international.
Kuyt will remain at Feyenoord, with the club saying he will "focus on gaining a position" within their technical management team.
After making his Eredivisie debut for Utrecht in 1998-1999, he moved to Feyenoord five seasons later and went on to be their top scorer in each of his three seasons.
It attracted the attention of Premier League side Liverpool, who were believed to have paid about £10m to sign him in 2006.
He helped the Reds reach the Champions League final in his first season, but only managed to win the 2012 League Cup in his six-year spell at Anfield.
After three seasons at Turkish club Fenerbahce, who won the league and domestic cup during his time there, he returned to Feyenoord.
Last season he helped them win the Dutch Cup and then scored 12 goals during this season's league triumph.
"I knew when I came back two years ago that we could win the championship and everyone laughed at me when I said so," he said on Sunday.
Feyenoord technical director Martin Van Geel said: "We are unbelievably grateful for what Dirk has done over the past two years.
"With his attitude, professionalism and passion he has added a lot - in the locker room, on the field and beyond."
Kuyt also won 104 caps for the Netherlands, including a start in the 2010 World Cup final which they lost to Spain.