Hearts' Ian Cathro plays down McDiarmid Park 'spat' with Bjorn Johnsen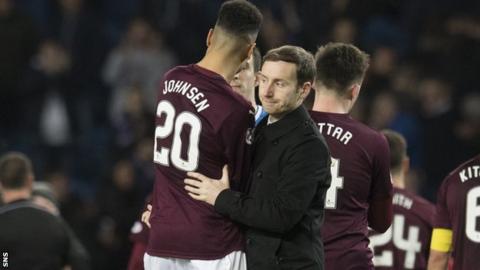 Hearts head coach Ian Cathro says reports of a half-time argument with striker Bjorn Johnsen are "incorrect".
The pair reportedly had to be separated in the McDiarmid Park changing room on Wednesday as the Jambos trailed St Johnstone, with the match ending 1-0.
Choosing not to disclose what exactly had unfolded, Cathro said: "There is no real story. There was a lot of people not happy, and me most unhappy."
The American-born striker, 25, will be in the squad to play Celtic on Sunday.
Playing down the incident at Friday's media conference, Cathro said: "Bjorn has trained well today and is available for Sunday. There is no story around that.
"You hope that a lot of things are private. I don't read everything but my understanding is that what made it out wasn't actually correct.
"There's no real story. It was incorrect to the point of making it a story. I'd need to make up another lie to pretend it was a story again.
"I don't feel that is something we need to turn in to a bigger thing."
Asked if the argument with Johnsen, who has made 36 appearances in his first season at Tynecastle, suggested tension in the squad, Cathro replied: "No, it signals that for 20-25 minutes of that first half our approach, our attitude, our aggression was completely unacceptable and it swung the game to a level we should never drop to.
"It tells you we were not happy with that and what you saw was a much improved second-half performance, where we controlled the game."
Johnsen, who has dual US and Norwegian citizenship, was signed by Robbie Neilson last summer on a three-year contract.