Richard Scudamore: Premier League has rejected 'many' prospective owners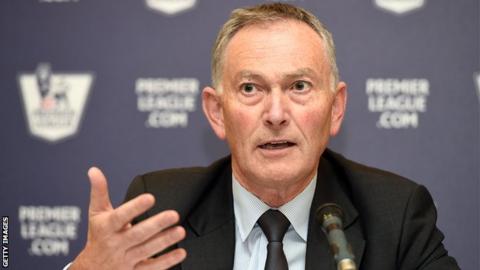 The Premier League has turned down prospective club owners "too many times to mention" in the past five years, says chairman Richard Scudamore.
Investors wanting to buy English clubs must pass the owners' and directors' test which came into effect in 2013.
Scudamore told the BBC that the number rejected runs into "at least the tens, probably into the twenties".
"It should be of some reassurance to fans how deep and how hard we work on this. It's very extensive," he added.
The test is designed to make sure owners, directors and officers of clubs meet standards above the legal requirement in order to protect football's reputation and image.
The 20 Premier League clubs will vote on changes to the test at next month's annual shareholder meeting.
Speaking on BBC Radio 5 live's Sportsweek on Sunday, Scudamore added that an owner's financial ability to run a club "must be separated from incompetence".
"There are some people who don't run the clubs very well but that's not what the owners' and directors' test covers," he said.
"The test is based on two things fundamentally - have you committed any of the crimes that say you cannot possibly own a club, and then it's down to the finances.
"We spend a lot of money on this and find out things the investment banks can't find out sometimes. We have very deep and resourceful intelligence networks."
There have been a number of fan protests in the EFL - the second, third and fourth tiers of English football - this season against unpopular owners.
Scudamore said the Premier League works closely with the EFL and "helps support them financially with their investigations".
"We do have an influence with them but ultimately the board of the Football League have their own decisions to make."