Kevin Nicholson: New Bangor manager ready for 'biggest challenge'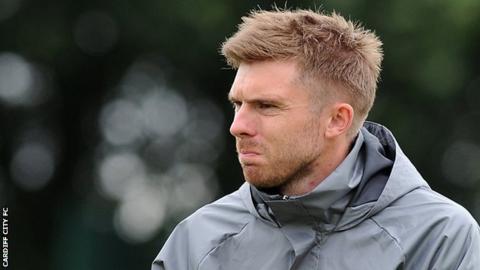 New Bangor City boss Kevin Nicholson says the role will be the biggest test of his coaching career so far.
The Welsh Premier League side will also play in Europe for the first time since the 2013-14 season, after qualifying for the Uefa Europa League.
"I see it personally as the biggest challenge in my coaching career to date," Nicholson said.
"Nothing beats coaching and management experience, and that's what this club has given me the opportunity to do."
Over the last decade, the 31-year-old former Cardiff City Under-23 coach has worked with Exeter City, Derby County and Stoke City.
"I'm going to use all the experience I've gained over the last 10 years to help and support the staff and players to develop and improve and build on recent success," said Nicholson, who has his Uefa Pro License.
Nicholson left the Bluebirds last December and says he is extremely excited about the opportunity to manage the Citizens.
The new manager is yet to meet the squad - that will happen on 7 June - but will work closely with assistant Gary Taylor-Fletcher, who took over temporarily as player-manager at the end of last season.
"I'm really looking forward to working with him. He's played at the highest level… it could be a very exciting partnership," Nicholson said.
"Obviously Gary will be playing a lot as well, but we'll be certainly working very closely together."
Nicholson also added that another reason for joining Bangor is the club's plans to move closer to a full-time training model.