Veteran defender Kyle Neill rejoins Portadown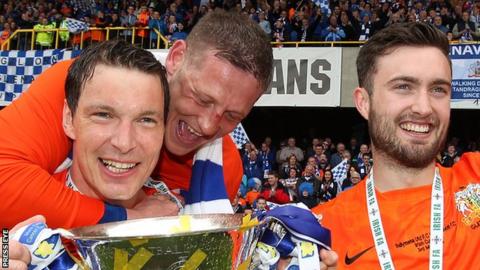 Former Glenavon defender Kyle Neill has rejoined relegated Portadown for what will be his last season in senior Irish League football.
The 39-year-old started his Irish League career with the Ports in 2001, winning league and cup medals during his time at Shamrock Park.
The attacking full-back then won another championship medal with Glentoran in 2009.
Neill moved from the Oval to Mourneview Park the following year.
Portadown will look to the experienced Neill to bolster their attempt to secure an immediate return to the Irish Premiership.
Niall Currie's side will start next season in the Championship, having finished bottom of the top division in April.
"I think it is fitting that Kyle plays his last season at Portadown - perfect in fact," said Ports boss Currie.
Recently, Portadown signed another former Glenavon player in seasoned midfielder Andy Kilmartin on a two-year contract.
Former Ards, Dundela and Carrick Rangers striker Ben Roy has also signed for Portadown.