Rhys Marshall signs new three-year contract with Glenavon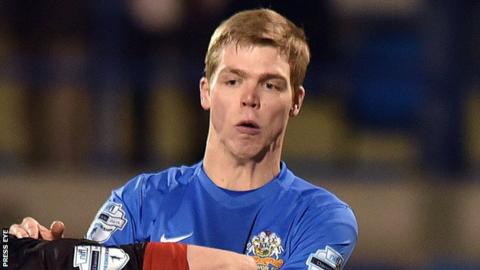 Glenavon have confirmed that Rhys Marshall has agreed a new three year contract with the Mourneview Park club.
The 22-year-old scored six goals last season after playing mostly in central midfield and manager Gary Hamilton is delighted to retain the player.
"In my opinion he's one of the top three players in the country and has the potential to play across the water," said the Lurgan Blues boss.
"Wherever I ask him to play, week in and week out, he's a top player."
"Since he moved to centre midfield last season he started to score more goals and Cardiff City were over watching him in the play-off final and were really impressed with him."
Marshall explained that he "always wanted to stay with Glenavon" and "it was just a matter of sorting out a few details on the deal".
"It's been tough this season but we've had three good seasons before that and of course expectations among the fans were naturally high, but to finish in the top six again was still an achievement," said Marshall.
"We weren't conceding as many goals but the problem was we didn't score enough. Hopefully the arrival of Andy Mitchell will make a difference to that next season."
Veterans Kyle Neill and Andy Kilmartin have both left the Lurgan club to join mid-Ulster rivals Portadown.
.