Disciplinary panel recommends two-year ban for Jersey Portuguese after 'brawl'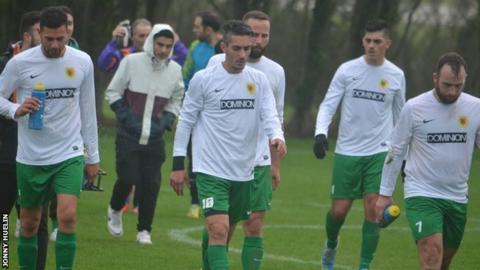 A disciplinary panel has recommended Jersey side Portuguese be suspended from island football for two years.
The club is being investigated by football officials after a "brawl" near the end of a game against in March.
A four-man panel was asked to review what happened on behalf of the Jersey Football Combination (JFC), which runs the island's league.
It comes as Portuguese are serving a suspended sentence for walking off in protest at a goal in 2015.
"The recommendation of the disciplinary panel is that the JFC have little choice in the circumstance to do anything else but put forward a motion to the JFC AGM (or specially arranged EGM) to suspend the affiliation of the Jersey Portuguese Club," read a Combination statement.
"In the opinion of the hearing this would be for a period of two years."
The panel was made up of a former league official, a representative of the Combination, the Jersey Football Association and the island's referees.
Portuguese defender Antonio Antunes posted on Facebook: "As a player for the Portuguese I'm sad that all that comes across is that we disrespect the rules of the game - all we look for is a fair game without all the shenanigans."
Portuguese finished bottom of Jersey's Premiership this season, winning just two of their 21 league matches and suffering a 12-0 loss to St Peter in what could turn out to be their final game on Saturday, 22 April.
BBC Sport has tried to contact the club for comment, but are yet to receive a response.