Manchester United to make SuperCupNI return in July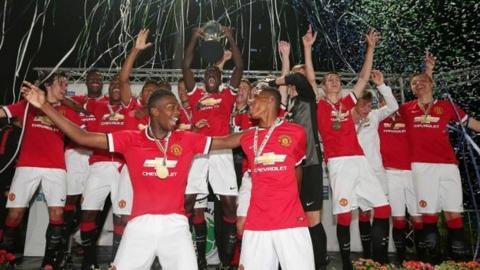 Premier League giants Manchester United will be back at the SuperCupNI in July after an absence of two years.
United pulled out of the international youth tournament in Northern Ireland, formerly the Milk Cup, in 2015 after a 25-year association.
"Manchester United are a huge draw at SuperCupNI," said tournament chairman Victor Leonard.
"We have been able to enjoy enormous success over the years because of their much valued and unwavering support."
He added: "Despite the disappointment two years ago we still maintained a good working relationship with United and respected their decision which, while difficult for us, was taken because of certain training requirements for the club's reserves at that time."
The Old Trafford club, six times Premier Section title winners, will contest the Junior competition as one of six English clubs involved.
Middlesbrough, Sheffield United, Plymouth Argyle, Swindon Town and Southampton join Glasgow Rangers and six Ulster County teams in the mix.
Four American sides and representatives from Mexico, Chile and New Zealand will also feature along with Cherry Orchard, North Dublin and Dundalk Schoolboys from the Republic of Ireland.
First Choice Soccer, GPS Bayern, Strikers and NC Elite make up half of the rest of the world line-up in the 24-strong Junior competition, alongside Colina of Chile, Mexico's Chivas Guadalajara and the Auckland-based MS Select.
The tournament begins in Coleraine on 23 July with the traditional welcome ceremony while the Ballymena Showgrounds will host the finals five days later.