Egyptian club Al Ahly terminates Coulibaly contract
Last updated on .From the section Football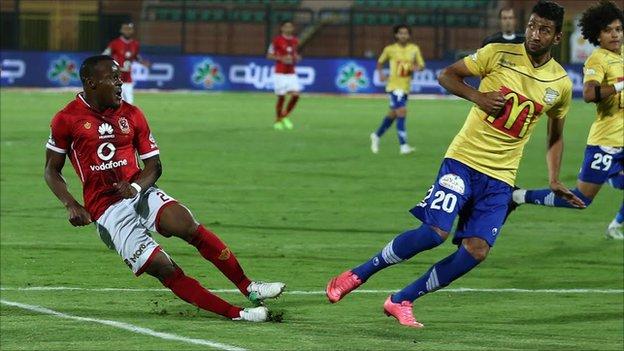 Egyptian club Al Ahly have terminated Souleymane Coulibaly's contract after the Ivory Coast forward's decision to remain in the UK.
The move comes 24 hours after Coulibaly accused Egypt's most successful club of treating him "like a slave".
Coulibaly's arrival in England last week prompted the Cairo Red Devils to lodge a complaint with Fifa, saying he was absent without permission.
But Coulibaly, who played for Kilmarnock in Scotland's top flight during the first half of the 2016/17 season - issued a statement on Twitter, saying he had no choice but to walk out on his contract, which runs until 2020.
The 22-year-old accused one of African football's most iconic clubs of confiscating his passport and making his family feel uncomfortable practising their religion.
"I had to flee the first chance I had hold of my passport. They treated me like a slave all because of money," said Coulibaly.
Al Ahly have since issued a statement confirming the termination of Coulibaly's contract and vowed to investigate any allegations of mistreatment.
Ahly chairman Mahmoud Taher said: "Ahly totally rejects Coulibaly's allegations; these are all faulty accusations which never happened."
Coulibaly joined the eight-time African champions last January from Kilmarnock and played 12 matches, scoring six goals.
But he claimed his team-mates refused to pass the ball to him and would be willing to accept accept a ban from football rather than return to Cairo.