Manchester United's under-18s to open SuperCupNI against N Ireland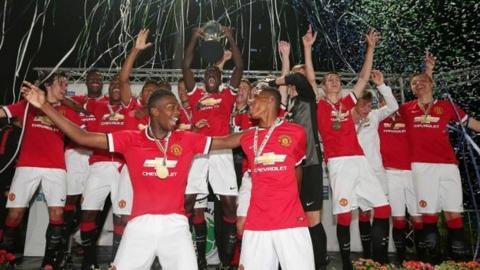 Manchester United's return to this year's SuperCupNI will include the club's under-18 side taking on the Northern Ireland Under-18s.
The game will kick off the tournament at the Coleraine Showgrounds on Saturday, 22 July.
Fermanagh man Kieran McKenna, who captained Northern Ireland in the Milk Cup Elite tournament in 2005, is an under-18 coach at United.
After a two-year absence, United will play in this year's junior tournament.
McKenna spent seven years at Tottenham before injury forced him to end his playing career at the age of 23.
United stars Marcus Rashford and Jesse Lingard helped the club win the Premier title in the 2014 tournament and McKenna says the experience of competing against opposition from all over the world is invaluable.
"If our boys get in the first team, they will play against South Americans and others from all over Europe, Asia and the rest of the world," said McKenna.
"Their styles of play are different to British players."
McKenna represented County Fermanagh in the junior section and then in the under-20 section for Northern Ireland.
"We beat Brazil in the semi-finals but were beaten by USA in the final. It's a good tournament and I really enjoyed it."
Former Milk Cup winner Nicky Butt, part of the famous 1991 team that lifted the Premier crown in Coleraine, heads up the Manchester United Academy.