No cause of death for Cheick Tiote yet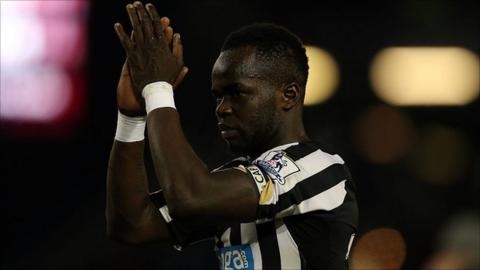 No cause of death has been determined yet for Cheick Tiote who collapsed and died after training on Monday.
The Ivory Coast midfielder, 30, died in hospital after collapsing at his Chinese club's training ground in Beijing.
A few members of Beijing Enterprises Group FC's official fan club visited Olympic Sports Centre, the club's home stadium, to lay a bunch of flowers on the pitch in a brief ceremony on Tuesday.
"They came this morning in the rain to pay tribute to Mr Tiote," Chen Zhenting, the fan club's spokesman, told BBC Chinese.
"We are in pain and very very sad to see him die at such a young age, really."
Chen also confirmed there will be further commemoration in the stadium later this month when Beijing play their next home game.
"On June 24, we would pay tribute to the player, as he wore number 24," Chen said of the match against Harbin Yiteng on that day.
"There would definitely be a silent tribute, and we could stand up holding his picture or his shirt at the 24th minute and chant 'Tiote'," said Chen, adding that further details are still being discussed.
The club confirmed that Tiote's family will travel to Beijing as soon as possible but declined to give any more details.
"We must wait till his family is here," Yang Xiaoxiao, the club's media officer, told BBC Chinese on the phone.
"We need to respect their opinion and not to speak more at this moment."
Gao Hongbo, the head coach, said the team are in a "very grieved" state and that Tiote was a "very important" player to the team.
He also said the club has issued a request to postpone their next fixture but it has been rejected by their opponent, Meizhou Hakka FC.
"We hope the (China) FA would offer some help to postpone the match on Saturday," Gao said.