Scottish Challenge Cup: Bray Wanderers and Sligo Wanderers 'relishing' trophy chance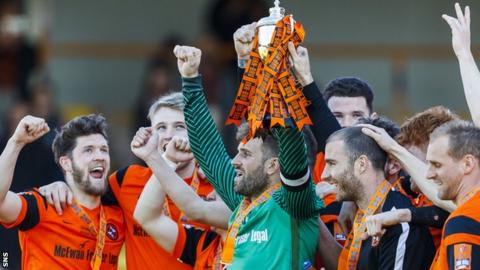 Bray Wanderers and Sligo Rovers are excited by the prospect of becoming the latest non-Scots in the Irn-Bru Cup, says Football Association of Ireland director Fran Gavin.
Teams from Northern Ireland and Wales were introduced this season.
And the Scottish Professional Football League announced in February that clubs from the Republic of Ireland would join them in the next campaign.
"I know they are relishing the opportunity," said Gavin.
"It's hugely positive for us, it gives our teams new horizons, and it's a good challenge to the coaching staff of those teams. They're full-time professional squads, with very talented young players."
The FAI director of competitions said that Bray and Sligo were looking forward to meeting new opponents and "will be looking to advance as far as possible in the competition".
Colt teams from Scottish Premiership clubs, plus Highland and Lowland League sides, also took part this season for the first time, with Welsh champions The New Saints reaching the semi-finals.
"The Football Association of Ireland were delighted to receive the invitation for two teams to take part," added Gavin.
"We have watched the competition grow with the inclusion of clubs from Wales and Northern Ireland last season and we are delighted to be participating."
The first-round draw for the 2017/18 Irn-Bru Cup, which will be competed for by 56 teams, will take place on Tuesday 27 June.