Jersey Scottish pull out of Premiership after failing to find manager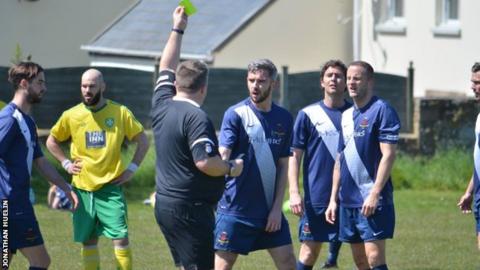 Jersey Scottish have pulled out of the island's Premiership after failing to find a new manager, just four years after winning the title.
Pat Brennan stepped down as boss at the end of the last campaign, after the Scots finished third in the table.
The Scots won back-to-back Premiership titles in 2011-12 and 2012-13.
"Despite numerous attempts to try to find a new manager, those attempts have proved fruitless," club secretary Craig Fletcher told BBC Radio Jersey.
"Unfortunately I think it's just the current state of Jersey sport, particularly in Jersey football, where teams are struggling for players, managers and volunteers - it just appears, at this moment in time, the way it's going."
Brennan retired from the role, which is done on a voluntary basis, and despite insisting the club will not fold, players will now be looking for other clubs.
Fletcher continued: "We've been keeping them up to date on an ad hoc basis. They were all aware beforehand we were having a meeting to discuss it.
"From the limited contact I've had with them they're obviously disappointed, particularly some of the more senior players that have been with us for a long time.
"I feel sorry for them, they have to go out and find other clubs."