Mexico plea to fans over homophobic chant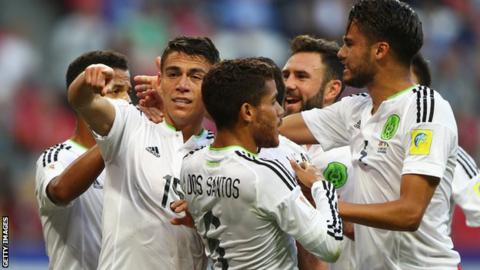 Mexico's football federation (FMF) has asked a "small group" of its fans to stop a chant Fifa says is homophobic.
The move comes after Mexico drew their opening Confederations Cup game 2-2 with Portugal in Russia.
Fifa has since warned the FMF about "insulting and discriminatory chants" and said it could take further action if it happens again.
Mexico have already been fined eight times during World Cup qualifying because of homophobic chanting.
Some fans of Mexico shout an insult at keepers when they take a goal-kick which is argued to be homophobic.
"As you know, Fifa is very serious about the chanting that we do when the goalkeeper takes a kick, and the possible sanctions are serious," said a statement from the FMF.
"Our efforts on the pitch will come to nothing if, because of this (behaviour), we lose the match, the game is suspended or you are expelled from the stadium.
"We lose, you lose, everyone loses."