Zambia U-20 star Emmanuel Banda excited by Oostende challenge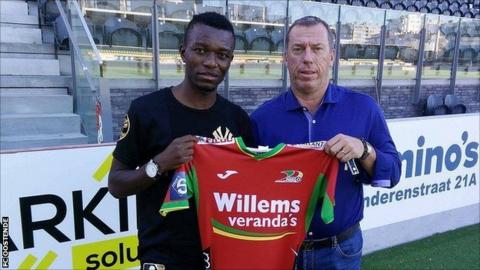 Zambia Under-20 star Emmanuel Banda says his dream has come true after sealing a move to Belgian side FC Oostende.
A vital member of the Zambian team that won the Under-20 Africa Cup of Nations on home soil, Banda also starred at the U-20 World Cup this year and was rewarded with a 2-year deal by Oostende, moving from Portuguese third-tier side Esmoriz.
The 19-year-old says his ambition is now to work hard and become part of Oostende's starting eleven.
"I believe I had the right qualities hence them signing me," Banda told BBC Sport.
"I am young and that means there's room for improvement in my game. All I have to do now is to work hard and start matches.
"Oostende has a lot of African players like Knowledge Musona [Zimbabwe], Andile Jali [South Africa] and Joseph Akpalla [Nigeria].
"I look forward to working with Knowledge and Andile when they come for pre-season but Akpalla is here and he has already been excellent towards me.
"This is definitely a good stepping stone for me; when I start playing, I will have more confidence and more doors will open for me," Banda added.
The Zambian teenager admitted that starting matches will not be easy.
"For me to play, I will definitely have to up my game. I know it will be tough and I will have to work hard but I am ready for the challenge," Banda said.
Although there are no Zambian players currently in the Belgian league, Banda says he has settled well because some compatriots have already paid him a visit.
"The city is nice; it has friendly people and I already feel at home. I have managed to meet up with some Zambians who - after they heard I had signed - came to collect me and cooked Nshima [Zambia's staple food] for me," Banda added.
Before signing for Oostende, Banda had been called to the senior national side for the Southern African regional tournament, the Cosafa Cup, which would have marked his debut for the senior Chipolopolo side, but the player declined the invitation to complete his move to Oostende.
Howerver he is confident more senior international opportunities will come in the future.
"It would have been a great opportunity for me to make my debut but coach Wedson Nyirenda understood it was important for me to secure my future.
"Pre-season is important for me to start blending with my team-mates but I guess opportunities will still be there for me to make my Zambia debut," he said.