Altrincham fan to travel 8,500 miles for friendly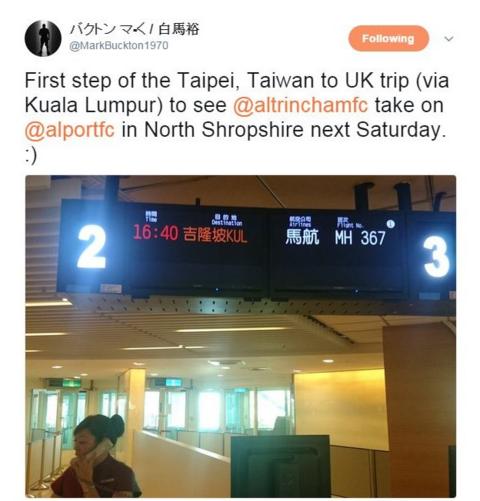 Football supporters regularly go above and beyond in support of their team but a fan of a non-league side making an 8,500-mile trip from Taiwan to watch his side play a pre-season friendly may set a new standard.
And the game in question is not even against a famous name but at the home of North West Counties first division side Whitchurch Alport on Saturday.
Mark Buckton is the Altrincham fan in question and he has travelled from Taipei via Kuala Lumpar on his way to England with his wife.
He is in the United Kingdom for two weeks but says his "wife didn't know but I planned the schedule around the whole game".
He added: "It is my first visit in nine years and I'm going to show my wife England and north Wales, but essential to the trip was that game."
At the start of his journey, he tweeted a picture from the airport before finding his flight had been delayed.
"Hope I make the Kuala Lumpar connection to London Heathrow to make Saturday's game," he added.
Following a message from Shropshire side Whitchurch Alport, Buckton is now set to mark the occasion by sponsoring the game.
"I'm looking forward to it. I'm going with family and my wife, who has no choice."