Jersey 'surprised' by progress as Court of Arbitration for Sport hear Uefa case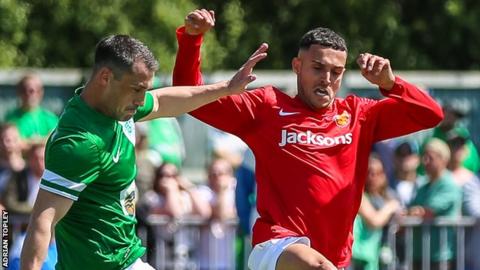 Jersey Football Association president Phil Austin says they will "not give up" in their bid to join Uefa after their case was heard by the Court of Arbitration for Sport (CAS).
Their application to become a member nation was rejected by Uefa last year.
The ruling was taken to CAS on 28 June as Jersey believe their bid needs to at least be put to members at congress.
"I'm surprised we've got so far down the line and we're certainly not going to give up now," said Austin.
"It's going to be difficult for us. Gibraltar got in because CAS gave strong directions to the [Uefa] congress, to the membership, that they felt the application should be accepted.
"Whether they do that for us I don't know - if they don't then it's going to be tough for us to get in because why should they allow another member in?"
Austin was called as a witness for the Jersey FA at the case in Switzerland, which is believed to hinge largely on whether they are deemed to be separate from the Football Association, and whether the island is an independent state.
Should Jersey be successful in their bid, their domestic league champions and runners-up would enter qualification for European club competitions, with men and women's teams at senior and youth level eligible to compete in their respective European Championships.
"It was six hours of fairly intense, legal, technical arguments," Austin told BBC Radio Jersey. "It did get a little bit heated once or twice on both sides."
CAS would not comment on the hearing, but told BBC Sport: "We believe the panel will issue its decision by the end of August."
Jersey's Uefa bid - a timeline