Guernsey FC boss Tony Vance says Bristol City friendly is 'unheard of'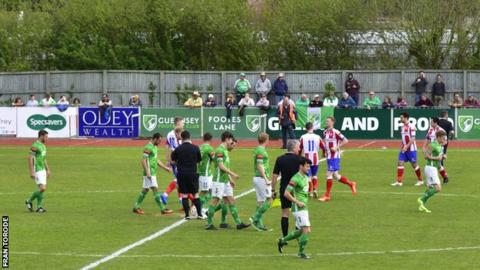 Guernsey FC boss Tony Vance says his side are "very lucky" to be playing Championship club Bristol City in a friendly on the island on Saturday.
Robins' chairman Steve Lansdown lives on the island, and Lee Johnson is set to bring a strong squad for the game.
"You don't get that opportunity generally, and certainly living on a island you don't," Vance said.
"It's unheard of these days to get a Championship club playing the likes of us - they normally go on tours."
Bristol City will be the highest-profile opponents to play on the island since a Guernsey XI were thrashed 6-0 in 1997 by an Everton side including Neville Southall, David Unsworth, Nick Barmby and Duncan Ferguson.
Guernsey FC, who finished one place above the Isthmian League Division One South drop zone last season, have forged a link with Johnson's side which has seen them loan players such as Jake Andrews.
"We're very lucky that Bristol City's owner lives over here, so we've got a relationship there," Vance told BBC Sport.
"It's a really exciting game when you look at the squad they're bringing - it's going to be full of internationals and players they've signed for £2m, £3m, £4m."
Meanwhile, Vance confirmed that record scorer Ross Allen has had a hernia operation and will be out for "five to six weeks".
Allen, 30, missed almost five months of last season as he went travelling abroad.
"Whether he goes away again I'm not sure - I think he probably will," said Vance. "That's just an assumption - his eyes have been opened a little bit, and why not."